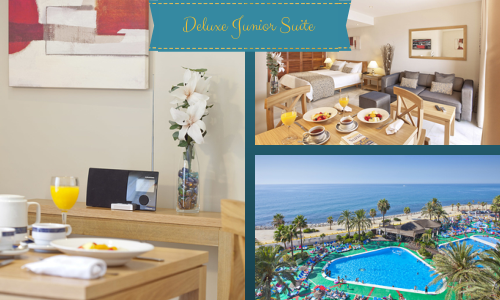 At the end of this week, we'll be officially unveiling a new type of apartment here at Sunset Beach Club: The Deluxe Junior Suites.
We've taken some of our regular sea-facing 1 bedroom apartments, redesigned them and created a new open-plan apartment which is sure to be a great hit amongst our guests!
As you can see from the images above, these new suites are comfortable and spacious, ideal for couples or families who appreciate a larger living area. All come equipped with some superb features not available in our regular 1 bedroom apartments including the following:
1)      Prime Sea Views:  All our new suites have guaranteed prime sea views as they are all located above the 6th floor of the hotel. Those who have stayed with us before will be aware that, until now, sea views could not be guaranteed as rooms are usually assigned upon check in; however, now, by booking a Deluxe Junior Suite you can guarantee those coveted sea views!
2)      Free Wi–Fi: No need to go to the Panorama Bar or one of the other free wi-fi areas throughout the hotel; enjoy free wi-fi access from the comfort of your room 🙂
3)      Large 42" TV Screens: For watching all your favourite TV programmes.
4)      Kingsize Double Bed: Perfect for couples!
5)      Ipod Docking Station: You'll be able to listen to all your favourite tunes or choose your favourite online radio station through your iphone.
6)      Walk in Shower: The bath tub has gone and has been replaced with a fabulous new walk in shower; more comfortable and practical.
For a quick preview of what you can expect in our new Deluxe Junior Suites, have a look at the short video below.
You're probably asking yourself how much these new apartments are… well, you'll be pleasantly surprised to know that they are just 20% more than our regular one bedroom apartments!
The Deluxe Junior Suites will be available to book online  from the 14th February 2014. If you would like to check availability, just click on the button below.

What do you think of our new Deluxe Junior Suites?  Would you like to stay in one the next time you visit Sunset Beach Club? Let us know in the comments below.