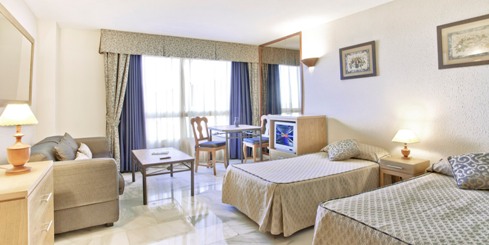 We recently wrote about the great accommodation options we have for larger families with out 1 bedroom (5 pax) and 2 bedroom apartments. Well today we want to tell you about another type of accommodation ideal for couples couples visiting Benalmadena and who don't require a separate bedroom: Our Studio apartments.
We've only got a limited number of these units but their generous open plan layout (no separate bedroom) and sea facing location make them a popular choice. Add to that the fact that they are cheaper than our standard 1 bedroom exterior apartments, you can understand why these Studios don't stay on the availability list for too long!
You'll find the Studio apartments equipped with most of the facilities and furniture you'd find in a standard 1 Bedroom apartment (Fully equipped kitchen, sofa bed, bathroom, air-conditioning/heating, TV with international channels, etc). For a more detailed description of the furniture and equipment in the Studios, please Click Here.
Here's a few things you need to know about the Studios:
Booking restrictions apply between May and September
Arrival days vary depending on season (please check with reservations)
Maximum occupancy is 2 persons
Although all units have sea views, some do not have terraces
You can check availability online here; however, if the dates you require are not available, we recommend you check with our reservations department directly to check availability.