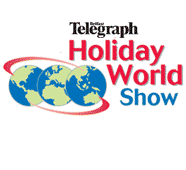 Our busy "European Tour" continues this week and with members of our commercial team flying off to exhibitions in Copenhagen and Belfast.
Claire, our Wedding and Events coordinator will be tackling the cold Danish winter as she attends the Bryllupsmesser 2011 Wedding Exhibition at the Bella Centre in Copenhagen with a dedicated stand (nºA-6B) for Sunset Beach Club. Visitors to the show will be able to obtain lots of great information from our stand and Claire will be available to answer any questions relating to weddings in Spain.
The exhibition is open to the public on Saturday the 22nd and Sunday the 23rd January 2011. Apparently it is the only wedding exhibition of its kind in Scandinavia; lets hope it's a success and helps brings lots of happy couples to Sunset Beach Club for their wedding!
Whilst Claire is battling the cold in Denmark, Melissa and Annemie will be flying in to Belfast for the Holiday World Show. This event will be held at the King's Hall Exhibition & Conference Centre. We'd love to see all our Belfast clients and guests, so if you are in the area please stop by and say Hi to Annemie and Melissa at stand C1-A; you'll get the chance to win a Free Long Weekend Stay at Sunset Beach Club!!!
Exhibition dates and times are the following:
Friday 21st January – 1pm to 8pm
Saturday 22nd January – 11am to 5.30pm
Sunday 23rd January – 11am to 5.30pm