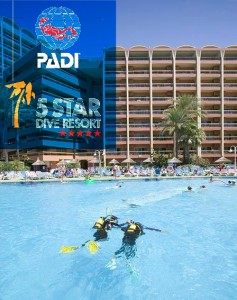 ScubaTours, the dive centre located within the Sunset Beach Club facilities has recently been awarded the 5 star Dive Resort rating from PADI. This fantastic onsite facility was already a registered PADI dive centre but the new distinction serves as recognition of the courses which have been taught over recent years.
Our dive centre has certified many divers in the popular Open Water Dive and Advanced Diver qualifications; however, it has also taught many specialty courses such as photography, wreck diving (in nearby Gibraltar), search and recovery, underwater navigation and many more. This is fantastic news for Sunset Beach Club and Scuba Tours as guests who stay with us and want to take a scuba diving course can feel confident that they are receiving instruction from a registered and recommended official PADI dive centre (we're actually listed on the PADI website :-)).
But the good news does not stop there. On the 1st November 2012 Scuba Tours will receive the rating of PADI 5 star IDC Resort. This is in recognition of the facilities they can offer to run an IDC (Instructor Development Course). This is fantastic as this will be the only IDC centre in the area that offers full instructor training facilities on site: Accommodation, conference rooms, swimming pool, storage and an open water dive site just metres away.
Please click on this link for more information about diving courses at Sunset Beach Club .