Sunset Beach Club is proud to have been selected as the official hotel partner for the European Cricket Championship (ECC) which takes place at the Cartama Oval from the 13th September to the 8th October.
Teams from 15 European Countries will take part in the limited overs competition and will be split into 3 groups, each consisting of 5 teams.
Group A: Luxembourg, Norway, Spain, Sweden and Belgium
Group B: Netherlands XI, Austria, Romania, Portugal and Hungary
Group C: England XI, Italy, Germany, Finland and the Czech Republic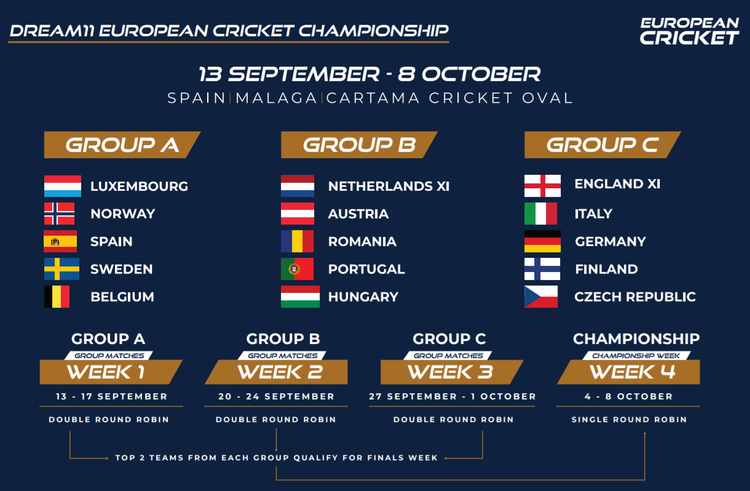 Matches take place over a period of 3 weeks from Monday 13th September. Each group will feature 24 games (T10) – a double round robin and a playoff. The leading two countries in each group will advance to the finals week scheduled from the 4th to the 8th October.
The whole event will be broadcast to a worldwide audience in over 100 countries including BT Sport in the UK and Ireland, Iltalehti in Finland and Fox Australia for all our Aussie friends!
Fans looking to come to the Costa del Sol during the Championship to enjoy the action – and a little sunshine – can book at Sunset Beach Club Hotel with exclusive rates available for European Championship Cricket fans from 7th September to 16th October 2021.
Anyone interested in watching the cricket live can head up to the Cartama Oval during the event. Entrance is free and you can also enjoy a fan village with drinks, food and music with a DJ as well as a kids park to keep the little ones busy.
You can also watch the games on the large TV's in Sunset Beach Club's Panorama Bar whilst enjoying a cold beer or a glass of vino!