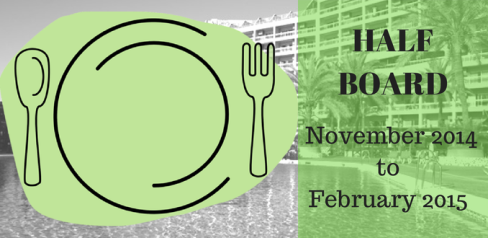 Guests who frequently visit Sunset Beach Club during the quieter winter months will be happy to know that we will be reintroducing our Half Board accommodation option this November. 
It was very popular a couple of years ago and we have decided to reintroduce the service this coming winter – from November 2014 to February 2015.
Guests who don't want the hassle of cooking during their holidays can now enjoy our Half Board option which includes our famous full buffet breakfast in the mornings and a delicious 3 course meal in the evenings. Depending on the dates of your stay and occupation levels, this 3 course dinner option may be replaced by a mouth-watering buffet 🙂
For the time being, this new Half Board option is only available to guests who book directly with the hotel (via web , telephone (+34 952 579400) or email (booking@sunsetbeachclub.com). The price is as follows:
18€ per day for adults
10€ per day for children (3 to 12 years)
If you're planning a longer winter stay with us, and enjoy eating out sometimes, why not try our Flexi-Meal Deals? These special booklets of breakfast or dinner vouchers can be added to your reservation when you book online. This gives you the freedom to eat in some evenings (and enjoy the superb views from your terrace), venture out to one of the local eateries and also make the most of the great-value dinner vouchers to be used in our Oasis Restaurant.
Booklets of  6 vouchers are available, priced at just  90€ (15€ each) for adults. We also offer a children's version for 42€ per booklet of six.
So,  if you're planning a winter break and are looking for a great-value option – which includes breakfast and dinner – head on over to our website and book your accommodation with Half board. => CLICK HERE TO BOOK!