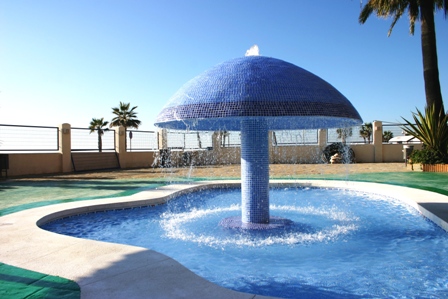 Those of you who have stayed at Sunset Beach Club will know that, until today, our main pool area boasted two large exterior pools and a small kids pool.
For obvious reasons, this is the most popular area of the hotel, and as such gets pretty busy during the warmer months. We get many families with young children staying with us, especially during the school holidays, and the small kiddies pool was getting a little overcrowded.
We've had quite a few guests make suggestions about improving the kids pool area and just to prove that we do listen, we took advantage of the quieter winter months to build a brand new kiddies pool!
As you can see in the photo above, the new pool even has its own 'mushroom' fountain which will undoubtedly be a favourite spot for kids and parents to hide from the sizzling rays of the summer sun 🙂
And that's not the only surprise we've got in stall for you… our Facilities Manager and his team are busy making improvements to the hotel; in the next few weeks we'll reveal another exciting project we're undertaking.