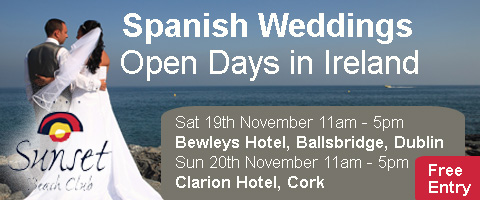 If you are considering getting married in Spain, then you need to make a note in your diary to visit our upcoming Spanish Wedding open days which we will be hosting in Dublin and Cork on the 19th and 20th November 2011.
This is the perfect opportunity to learn everything you need to know about getting married in Spain and to personally meet our with our Wedding Planner, Kerry Vear-Smyth, and our Wedding Coordinator, Claire Mitchell; both of these ladies take care of all details related to weddings at Sunset Beach Club and will be available to answer any questions or queries you may have.
As well as bespoke wedding services, at Sunset Beach Club we offer complete wedding packages which include every detail of your special day: The wedding ceremony, legal paperwork, hair and make-up, flowers, wedding car, photography, cava for the speeches, reception with free-flowing wine, wedding cake, table centres, menus, live entertainment and much more! Just to give you an idea, a complete wedding for 40 guests starts from €5100  🙂
We'll be at the Bewleys Hotel (Ballsbridge) in Dublin on Saturday 19th November and at the Clarion Hotel in Cork on Sunday 20th November. Both open days are from 11am to 5pm.
Entrance is free and you also have the option of a private appointment with our wedding team; please email weddings@sunsetbeachclub.com or call Claire Mitchell on +34 952 579400 (ext.3123) for more information.
Look forward to seeing you at the Spanish Wedding open days!