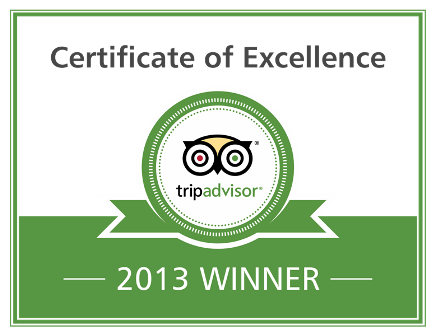 We're delighted to announce that Tripadvisor, the world's largest travel site, has awarded us their 'Certificate of Excellence' for 2013.
This important accolade, which honours hospitality excellence, is given only to establishments that consistently achieve outstanding traveller reviews on Tripadvisor. Only the top-performing 10% of businesses listed on Tripadvisor receive this prestigious award! 
It's not easy to achieve the high standards required to qualify for the Certificate of Excellence; the award requires us to maintain an overall rating of four or higher (out of a possible five) as reviewed by travellers on Tripadvisor (amongst other criteria).
All the team at Sunset Beach Club would like to thank all our guests who posted reviews to Tripadvisor and thereby contributed to this wonderful achievement. We'll continue working hard to offer our guests a memorable holiday experience and hopefully make our way up from nº4 in the Ranking of Top Hotels in Benalmadena to that coveted nº1 spot. 🙂
Enjoy your summer and we look forward to welcoming you to Sunset Beach Club soon!