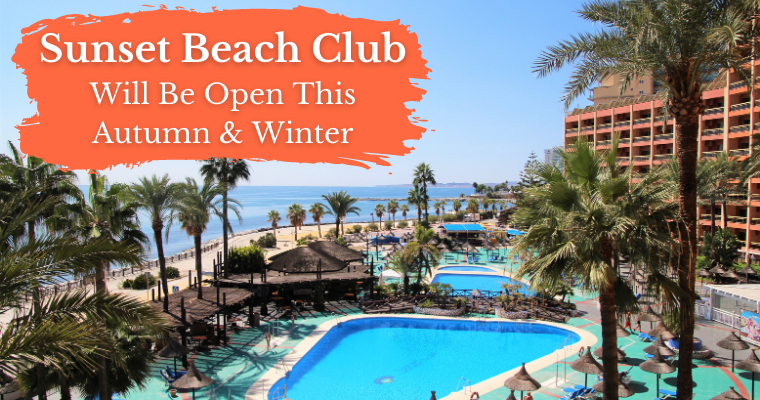 Although news regarding Covid-19 over the past few weeks hasn't been too encouraging, we do have some important information to share with you… Sunset Beach Club will stay open all Autumn and Winter! So as soon as you're able to travel, we'll be ready and waiting with open arms!
Due to low occupancy, some of our services and facilities have had to be reduced for the coming months, but this does mean that we've been able to lower our Autumn & Winter room rates! There are some fabulous offers available and we've also introduced a Weekly Clean option and some Longer Stay discounts; if you stay over 7 nights, there are even more savings to be had!
So, if you're not affected by quarantine or travel restrictions, now would be an excellent time to enjoy a quieter Sunset Beach Club, and at a great price!
The table below highlights the special offers available from now until March 2021. Please note that prices are per apartment and night.

If you're planning on staying a little longer, be sure to check out the amazing offers in the table below. The longer you stay, the more discount you get! And if you choose the new Weekly Cleaning option, you can save even more. (This can be booked directly on our website)

The Panorama Bar will be the main hub of activity over the next few months with its popular daily Happy Hour and live sports on the large TV screens. As the Oasis Restaurant is closed, the Panorama's kitchen will be open for breakfast, lunch and dinner from October. This is a great sport for a 'café con leche', a cool beer or a bite to eat at any time of day. And don't forget that you'll also get to enjoy the stunning views from the terrace!
The following link will take you to a special page on our website where you can see full details of our current Services & Facilities. Please visit this page often as it is kept updated whenever there is a change in services and opening times.
COVID-19 PROTOCOLS
When you come and stay at Sunset Beach Club, your safety is our priority. We have extensive health and safety protocols in place – you can see details of these on our website HERE – so that you can enjoy a safe and relaxing holiday.
WINTER WORKS
As usual, some interior improvement works will be carried out at Sunset Beach Club this Winter. Most of this work is superficial, but there will be some disturbance from mid-November to 15th December. As always, guest satisfaction will be our priority and guests will be allocated in a separate block, well away from these works. Please see this link for further information.
CHRISTMAS & NEW YEAR CELEBRATIONS
Last, but not least, we remind you that bookings are open for our traditional Christmas Lunch and New Year's Eve gala dinner events. The exact format is still pending, but we will be celebrating for sure, so if you are planning to join us, please book sooner rather than later, as numbers may be more limited than usual.
Don't forget that by booking direct with us you get the best booking conditions including Free wifi Premium, late check-out, welcome gift and more!
CLICK HERE TO CHECK RATES & BOOK NOW!