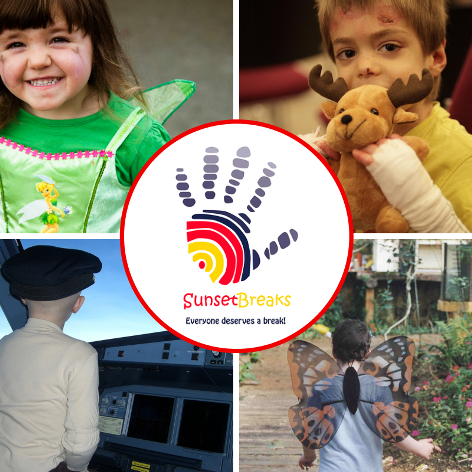 Every year, Sunset Beach Club contributes to various charities as part of our ongoing corporate responsibility programme. This year our General Manager, Mark Wardell, wanted to do something different, concentrating our fund raising efforts on a very specific cause… that's when we came up with the idea for 'Sunset Breaks'. 
It's our job to provide an enjoyable experience in a fun and safe environment. One could say we are in the 'dream business'; the business of creating special memories.
Most of us are fortunate enough to be able to travel to foreign countries and enjoy family holidays; however, there are many who aren't so lucky… So this year, we'll focus our efforts on creating special memories for those less fortunate, more specifically, for children who are battling serious illness.
Under the name of 'Sunset Breaks' this new initiative will allow us – with the help of our generous guests – to collect funds which will go towards creating special memories for these children.
We'll be supporting three charities: Barretstown, Debra Spain and Make-A-Wish®  Spain. Below you'll find a little summary explaining the wonderful work they all do.
Barretstown
Founded in 1994 by Hollywood actor, Paul Newman, Barretstown is a unique camp that provides medically endorsed residential programmes of therapeutic recreation for children with cancer and other serious illnesses.
Located in Co. Kildare, Ireland, Barretstown welcomes children from all over Europe free of charge. In 2013, some 130 children, primarily cancer sufferers, travelled from Spain.
The excellent, unobtrusive medical supervision provided, helps children with cancer and other diseases forget illness, learn to have fun and rebuild their confidence and self-esteem.
If you'd like to learn more about Barretstown, you can visit their website at www.barretstown.com.
Butterfly Children Charity (DEBRA Spain)
The Butterfly Children Charity helps children with EB, a condition which makes skin as fragile as a butterfly wing. EB sufferers require painful daily wound care routines and parents are generally the sole carers.
DEBRA Spain offers families a once in a lifetime holiday by providing a home from home in Marbella with specialised nursing care which gives parents the opportunity to experience a true respite from this devastating condition.
For more information about DEBRA Spain, please visit www.Debra.es
Make-A-Wish® Spain
Make-A-Wish®Spain grants magical wishes to children and young people fighting life threatening medical conditions. These once in a lifetime experiences provide them with the strength to keep on with the necessary medical treatments that can help them defeat their diseases.
So how are we going to help?
Actually, we've already started the ball rolling by donating 1000€ to each of these causes; we now hope to significantly add to this figure with the help of guests who stay at Sunset Beach Club.
If you would like to contribute to our 'Sunset Breaks' initiative, we've placed several collection points throughout the hotel; two in the main reception area and one next to the supermarket on the 1st floor.
Every little bit helps and all contributions will be most appreciated. We hope we'll be able to create some memorable 'breaks' for some very special children!
If you'd like to keep up to date on the progress we're making and the funds collected, please visit our Facebook Page where we'll be posting regular updates.
Thank you for your help.