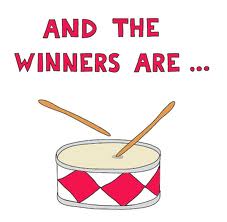 Over the Christmas period, we ran our "12 Days of Christmas" Calendar on our Facebook page. Each day, guests and fans could click on a new box in the calendar to reveal the prize for that day… We had a total of 12 different prizes, nine of which required entry into a prize draw with the other three offering instant prizes to the first fans to take action.
We have now completed all the draws and here are the winners of each prize (drum roll…..):
Day 1 – Christmas Lunch for 2 People
Winner: Eamon Mcloughlin
Day 2 – Breakfast Buffet Vouchers
Winner: Claire Quinn
Day 3 – €50 voucher for the Oasis Restaurant
Winner: Lorraine Palmer
Day 4 – 2 x Pirates Day Passes
Winner: Lorraine Glynn
Day 5 – Free Bottle of Rioja Wine
Winners: Tony Montanna, Esther Gray, Brian Rae, David Reilly, Jan Spivak
Day 6 – 2 Tickets to the New Year's Eve Gala Dinner
Winner: Elaine McCormick
Day 7 – Free Sunset Beach Club T-Shirt
Winners: Claire Quinn, Esther Fray, Frankie Conolly
Day 8 – 3 Night Winter Break at Sunset Beach Club (This is the BIG one!)
Winner: Jodie Smith
Day 9 – Free Massage 
Winner: Pauric Gallagher
Day 10 – 4 Tickets for the "Malaga Tour" 
Winner: Lynn Wynn
Day 11 – 4 Tickets to Biopark Zoo in Fuengirola
Winner: Nicola Keenan
Day 12 – €30 Meal Voucher for Luna Beach Club
Winner: Simon Cable
Thanks to all who entered and congratulations to the winners! We'll be in touch shortly (by email) If you can, please take a couple of minutes to tell all your friends on Facebook and dont forget to Tag Sunset Beach Club 🙂
Stay tuned for our next competition on Facebook and if you're not a Fan yet, head on over and click that "Like" button!