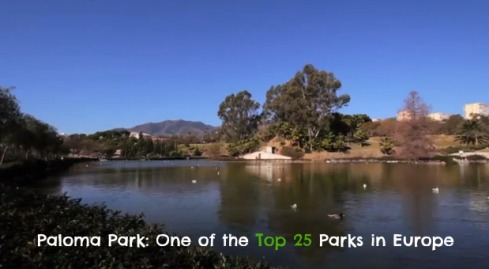 Paloma Park in Benalmádena has recently received an important award from Tripadvisor, the world's nº1 travel review site. We're delighted and proud to announce that our beautiful park located in the centre of the town is now included in Tripadvisor's 25 Top Parks in Europe (nº24), a great bit of news to start off the busy summer season. 🙂 
Tripadvisor is recognised as one the world's most influential travel sites. In this second edition of its 'Travellers' Choice Attractions Awards'– which honors top landmarks and parks throughout Europe – the travellers who leave reviews on Tripadvisor have decided that this 200.000 square metre park is worthy of a place in the Top 25 list and thereby become one of the most recommended parks on the continent! 
If we consider the number of parks and gardens throughout Europe, being chosen to form part of this exclusive list, together with world famous parks such as The Retiro in Madrid, Güell in Barcelona, St. James' Park in London, Jardins de Luxembourg in Paris or Vigeland Park in Oslo is a true honour for Benalmadena.
This summer, Benalmadena town hall will introduce various improvements to PalomaPark. The first of these is the addition of two new members to the park's extensive family of animals; a pair of donkeys named 'Dotty' and 'Milagros'. They will have their own dedicated and fenced-off 300 square metre area which includes a small shelter. The peacocks, swans, hens and rabbits will be delighted to welcome these new friends :-).
The second improvement will be the installation of an iron sculpture created by Italian artist, Silvia Vendamel. It will be located in the stunning cactus garden with its more than 2000 plants and 250 different species.
Have you visited Paloma Park? It's now a distinguished member of the Top 25 parks in Europe so we highly recommend you take a stroll through its beautiful gardens next time you are in Benalmadena. And don't forget to say hi to 'Dotty' and 'Milagros'! 😉