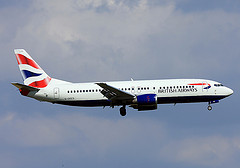 As from the 27th March 2011, British Airways will be increasing the number of flights into Malaga airport from two to four a day. All of these extra flights to Malaga will depart from Gatwick airport and the total number of weekly flights to the Costa del Sol's capital will be 28.
British Airways will be using Boeing 737 or Airbus A319 aircraft for this route; the service will include Club Europe and Euro Traveller cabins catering to both the business traveller and those looking for a cheaper alternative.
This is welcomed news for many travellers who prefer to fly with one of the larger carriers rather than the often – although not always – cheaper alternative of budget airlines. Let's not forget that British Airways flights include onboard catering, online check in with the option to reserve your seat 24 hours before departure, all free of charge (makes a nice change from all the extra charges on most airlines).
Let's hope that increase in flights will eventually translate to cheaper air fares for anyone wanting to fly from London to Malaga!
Photo Credit: Kok Vermeulen