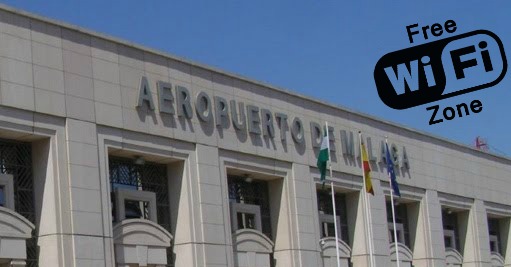 If you are regular visitor to the Costa del Sol you'll know that – up until now – accessing Málaga airport's Wi-Fi network meant paying for the privilege.
Well, you'll be delighted to know that as of last week, that is no longer the case as passengers can now enjoy 15 minutes of FREE Wi-Fi access. Granted, it's not the ideal scenario (read: Free unlimited Wi-Fi); however, it beats having to pay to check the latest bus time tables, making a quick Skype call to let someone know you've arrived, sending a Whatsapp message or simply checking the latest news from your favourite online newspaper.
What happens after the 15 minutes are up? You'll be offered the opportunity to pay for more access and at faster speeds; a viable option if your flight happens to be delayed!
This new service is now available thanks to the airport's new internet access provider and with 677 access points scattered throughout the airport, you'll have access to one of the largest Wi-Fi networks in Malaga.
To use this new free Wi-Fi service, travellers just have to activate Wi-Fi on their smart phone, tablet or laptop and follow the simple on-screen instructions; you'll soon be surfing the internet, albeit for just 15 minutes 🙂
What do you think of this new free Wi-Fi internet service? Will you be using it? Let us know in the comments below.
By the way… at Sunset Beach Club we offer free Wi-Fi in many of the hotel's common areas… and there's no time limit 🙂