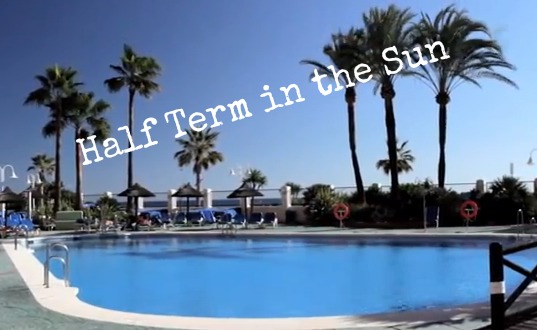 The half-term holidays in February are just a few weeks away and many of you are probably already thinking of ways to keep the kids amused during the school break.
Well, we've got a suggestion… Jump on a plane and head over to Sunset Beach Club for a few days of sunshine! At this time of year you can find some great deals on flights and we've got some great prices on accommodation; Just €54 per apartment per night for an exterior 1 bed apartment which can sleep 2 adults and 2 children!
With average daytime temperatures in the 18ºC range, you probably won't be doing any swimming in the sea but the pool is a definite possibility! It's not uncommon to see guests relaxing by the pool enjoying some winter sun whilst reading a good book.
And what about the kids? I hear you ask. Well, during the half-term break, our animation and entertainment team prepare a special programme to keep the children amused throughout the day – letting mum and dad enjoy a little peace and quiet 🙂
Here's a list of some of the fun Kids activities we've got lined up for half-term:
Puppet Making
Mini bingo
Bouncy Castle
Drawing Contest
Face painting
Mini Disco
And lots more…
There are plenty of activities for mum and dad too. Get in shape every morning with one of our aerobic or step classes or join in the fun with our darts, archery or pistol shooting activities.
During the half-term break, you'll also be able to enjoy some great evening entertainment with the Ricky Lavazza Show and family favourite, The Lion King! (Please check our What's On guide for dates and times)
Please note that the above activities programme will be available from the 9th February to the 23rd February 2013.
What are you waiting for? Head over to www.sunsetbeachclub.com and book your half-term break in the sun… remember, it's just €54 per night for a 1 bedroom exterior apartment.