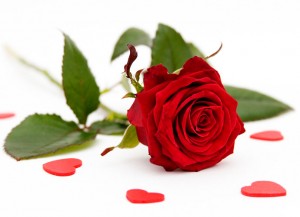 This year Valentine's Day falls on a Tuesday. As most happy couples will probably want to celebrate this special day without worrying about having to work the next day, we've decided to offer a special Valentine's Day dinner on Saturday 11th February 2012 (note: we are also offering the same set menu on the 14th February :-)).
If you are looking for somewhere special to celebrate Valentine's Day, may we suggest you take a look at our fantastic set menu which will be served in our Oasis Restaurant on Saturday evening…
You've got 3 choices: Romantic dinner in our Oasis Restaurant; Romantic dinner with 1 night's accommodation including buffet breakfast; Romantic dinner, 1 night's accommodation with buffet breakfast and a delicious lunch in Sunday 12th February.
Take a peek at the menu…
Welcome Cocktail (Poción de amor)
***
Red prawn terrine with a basil cream and green salad
***
Supreme of chicken stuffed with wild mushrooms served with seasonal vegetables and topped with aMalagawine sauce
***
Chocolate trio with mascarpone cream and raspberry sauce
This delicious meal includes refreshments, white house wine, red wine (Besagain Crianza roja) and cava.
Pricing is as follows:
Romantic meal in the Oasis Restaurant – €35 per person
Romantic meal, 1 night of accommodation with buffet breakfast – €64 per person
Romantic meal, 1 night of accommodation with buffet breakfast and lunch on the 12th February – €84 per person
All three of the above options include free access to our Moonlight Bar where you'll be able to dance the night away (until 5:00am) to live music and a DJ.
Dinner in the restaurant will be served as from 9:00pm and we highly recommend you book in advance 😎 For more information or to make a reservation, please call 952 579 400 or email booking@sunsetbeachclub.com
Note: all prices include VAT and are based on 2 people sharing a room.