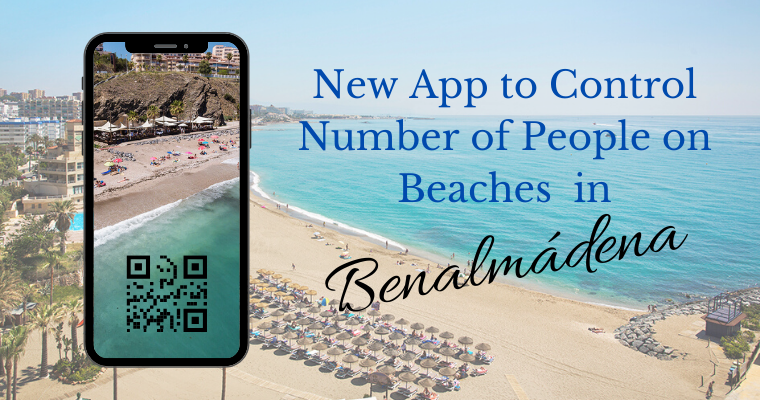 This summer Benalmádena's beaches will be a little safer…
The City Council has just announced that they will be launching a new application called 'Social Beach' so that we can know in real-time the capacity of each beach in the town.
This is a pilot project on Benalmádena`s beaches that aims to control capacity and health and safety measures along the municipality's coastline during the summer months.
The development of this application has been carried out by Soltel Group, one of the most powerful information technology companies in Andalusia. Thanks to the great work of the councillors involved in this project, the new app will be available to Benalmádena at zero cost.
The app will be launched next Wednesday, 10th June, facilitating capacity control and the safety of citizens and visitors. It will work through QR codes and the use of a virtual ticket that will offer a sampling of each visitor when they arrive at the beach and record their visit through the app. This will allow detailed control of the number of people on the beaches in real-time.
The application has unlimited user capacity, is multi-language and adaptable to new changes that may occur in the government regulations when the State of Alarm ends. It also records the amount of time each user has been on the beach … as the recommended maximum time is 4 hours when the user is nearing this time limit, the app will send them a reminder notice.

Safety has also been paramount when designing this app that only allows the user to register as a visitor to a beach if they are actually located within real geographic proximity.
There will also be controllers at the accesses to each beach in the municipality who will be tasked with adding to the registry those people who come without a mobile device that allows them to use the QR codes. This way, the authorities will have a reliable record of the number of people on each beach in Benalmádena at all times.
"It is about all of us joining together to facilitate greater security for our neighbours and visitors so that Benalmádena will once again be a safe destination this year, and people will have the certainty of going to our beaches with all necessary security measures and guarantees of social distancing " Juan Antonio Vargas, councillor of the Benalmádena City Council
As soon as we have confirmation that the app is working and available to download we will provide you with the links.
Will you use the new 'Social Beach' application?