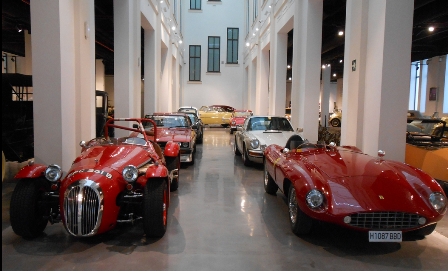 This summer, the Automobile Museum in Malaga has put together an ample programme of fun activities for all the family. Throughout July and August, visitors to this impressive museum will be able to get out of the hot sun for a few hours and dive into a fabulous world full of art, fashion, design and, of course, the most exclusive selection of cars.
The activities will take place at 12:30 pm from Tuesday to Sunday; designed to be enjoyed by all age groups, they include the following:
Starting up and revving of engines every Friday. (They've got some amazing cars so this should be fun!)
Guided tours every Saturday. The perfect opportunity to discover all the best kept secrets of this impressive collection on cars. After the visit, you'll also have the chance to take a ride in the beautiful 1919 Brasier, a vehicle used by the Portuguese police for transporting their officers.
Every Sunday… cars in movement. See all your favourite vehicles in action.
The first Friday of August (2nd) visitors will be able to take part in an evening guided tour of the museum, one with a fun theme. You'll be taken back to the 1940's, the Jazz years. All the cars, costumes and complements you'll see will remind you of Duke Ellington, Armstrong or Sinatra with the music and ambience to accompany. This is a great chance to get up close to your favourite cars as there wont be any rope barriers to stop you 🙂
If you'd like more information about Malaga's AutomobileMuseum, just head on over to their website – http://www.museoautomovilmalaga.com/en/
Where is the museum? 
You'll find it in the emblematic Tabacalera building located at Avenida Sor Teresa Prat 15, Málaga. There is a private car park which is free to use and the opening hours are from 10:00am to 7:00pm from Tuesday to Sunday.
Are you looking for accommodation near Malaga? Sunset Beach Club is just 20 minutes from the city centre. We've got comfortable apartments and the superb facilities of a 4 star resort, all within an enviable sea front location. If you'd like more information, feel free to visit our website at www.sunsetbeachclub.com .