On Saturday 25th May Sunset Beach Club will be celebrating its 4th annual charity gala in aid of three amazing children's charities: Debra Spain (The Butterfly Children Charity), Barretstown and Make-A-Wish® Spain.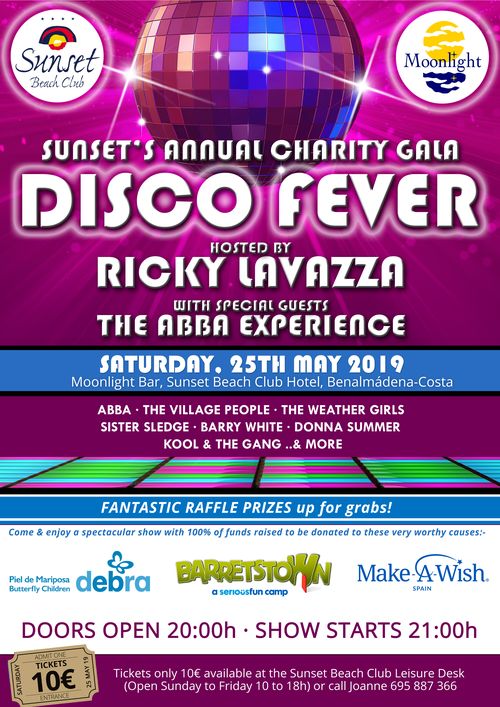 The talented Ricky Lavazza will once again take to the stage for this fun "Disco Fever" show along with special guests, The Abba Experience. Featuring hits from artists such as Kool and the Gang, Sister Sledge, Barry White and, of course, Abba, you'll certainly need your dancing shoes for what promises to be a fantastic evening.
The aim of the event is to raise funds for 3 kid's charities Sunset Beach Club has been supporting for the last 4 years as part of our 'Sunset Breaks' initiative. Last year's event managed to raise just over €10,000 for these charities and we'll be hoping to surpass this figure at this year's gala!
"Disco Fever" takes place in the Moonlight Lounge on Saturday 25th May 2019 with entrance tickets priced at just €10. There will also be some amazing raffle prizes up for grabs with tickets available at the door on the night! 100% of the funds raised will be donated to these 3 children's charities.
The charities supported, Make-A-Wish® Spain, Barretstown and Debra Spain all have a theme in common, creating special memories for children battling a serious illness.
So that you are aware of where your donations are going, we've included a short explanation of what each of the charities does just below.
Butterfly Children Charity (DEBRA Spain)
The Butterfly Children Charity helps children with EB, a condition which makes skin as fragile as a butterfly wing. EB sufferers require painful daily wound care routines and parents are generally the sole carers.
Barretstown
Founded in 1994 by Hollywood actor, Paul Newman, Barretstown (located in Co. Kildare, Ireland) is a unique camp that provides medically endorsed residential programmes of therapeutic recreation for children with cancer and other serious illnesses. Children travel to Barretstown from all over Europe free of charge.
Make-A-Wish® Spain
Make-A-Wish® Spain grants magical wishes to children and young people fighting life-threatening medical conditions. These once in a lifetime experiences provide them with the strength to keep on with the necessary medical treatments that can help them defeat their diseases.
Buy your tickets at the Sunset Beach Club Leisure Desk located on the 6th floor of the hotel!