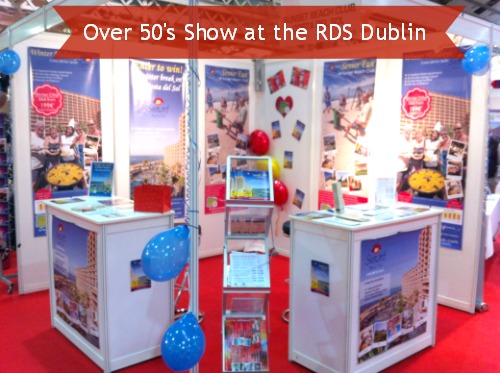 The Sunset Beach Club commercial team are busy packing their bags full of brochures and information for the Active Over 50's Show which takes place at the RDS in Dublin from the 9th to 11th October 2015.
In its 17th year,  the show caters for the Over 50's market with over 250 exhibitors covering a wide range of topics and interests including: health, holidays, pastimes, gardening, genealogy, fashion, finance and food.
Here's a brief summary of some of the highlights of this weekend's show:
Dr Dilis Clare 'The Medicinal Value of Herbs in your Garden'
Health checks and talks
Golf lessons
Gerrey Daily Gardening Clinics
Blood pressure and blood sugar screenings
Personal finance clinics
Antique valuations with Eric Knowles
Trace Your Roots in the genealogy section 'Back to Our Past'
Competitions and Giveaways (see below for details of our giveaway)
Bridge and Creative Writing Workshops
Music and entertainment with Sil Fox, Paddy Cole and Dickie Rock
Hobbies & pastimes section including workshops on lace making, felt making and caligraphy
If you are in the area, we'd love for you to stop by our stand and say hello (Stand nº82). Our team will be available to answer any questions or queries you may have and will provide you with lots of great information about Sunset Beach Club for you to take away with you. Whilst you are there make sure you enter our competition to win a fabulous 3 Night Winter Break at Sunset Beach Club!
Tickets to the Over 50's Show are usually paid at the door but if you'd like to register for free, head to the organiser's website and click on the 'book event' button at the top of the page and fill in your details to receive your free tickets.
Opening times 
Friday 9th October: 11:30am to 5:30pm
Saturday 10th October: 11:30am to 5:30pm
Sunday 11th October: 11:30am to 5:30pm