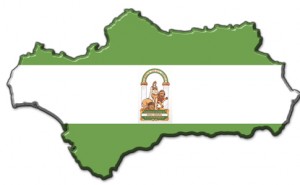 Tomorrow (28th February) is Andalucia Day or " Día de Andalucia". Apart from being a public holiday in all of the Andalusian region – shops and businesses will be closed – Andalucia Day is a special day… It commemorates the February 28th, 1980 referendum on the Statute of the Autonomy of Andalucia in which the Andalucian people voted to make Andalucia an autonomous community of Spain.
If you are walking through the streets of any Andalucian town or city, don't be surprised if you see green and white flags decorating the balconies of many buildings; it's also common for various cultural competitions to be held in conjunction with this special day on the Andalucian calendar.
Here are a couple of suggestions on ways to spend Andalucia Day:
1)      The Thyssen Museum in Málaga is offering free entrance to all visitors tomorrow the 28th February. If you haven't been, this is the perfect opportunity to do so. Take the train or bus into the centre of Málaga, visit the museum and then take a stroll through the streets of the old town – don't forget to stop in at one of the many bars for some traditional tapas! You might also want to take a walk along the impressive new waterfront area called 'Muelle Uno'; definitely worth a visit!
2)      Option two is a little closer to home. The beach bars (chiringuitos) and restaurants in theSanta AnaBeacharea – near the windmill – is celebrating the 'II Feria del Pescaito'. This basically means that you can dig into some fantastic fish dishes at unbeatable prices. Typical fried fish dishes such as Calamares or Boquerones will be available for just €4.5 per plate and shell fish dishes will be priced at €7 per plate – we're basically talking half price here! If the weather stays as it has been for the past few days, you'd be mad not to take advantage of this great offer… Enjoy a leisurely stroll down the promenade and treat yourself to some of the best fish on the Coast 🙂