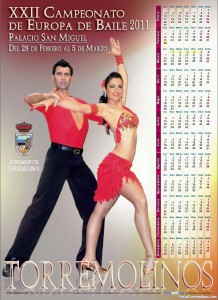 This week, Torremolinos has become the European dance capital by hosting the XXII edition of the European Dance Championships.
With more than 1500 dance pairs from all over Europe signed up for the competition, spectators are guaranteed a great show!
The championship started on Monday the 28th February and ends on Saturday 5th March with the grand finals. Today and tomorrow (Friday) there will be qualification heats in the morning (10:00am) in order to choose pairs for the finals which will be held in the evening at the Palacio de San Miguel. Entrance to the heats is free and the evening finals require an entrance fee of €5.
Throughout the whole of this week, spectators have been dazzled by dancers from all over Europe performing a wide variety of dance styles: Waltz, tango, paso doble, artistic dance, chachachá, rock and more…..
Tonight (Thursday), dance enthusiasts will be able to enjoy the following dance finals: Continue Reading →