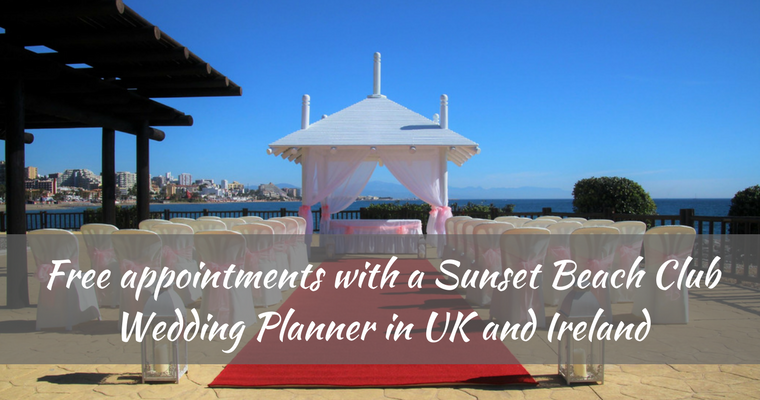 This year we have over 130 weddings booked at Sunset Beach Club.
Many of these Brides and Grooms who have chosen to get married in this gorgeous part of Spain tend to fly over from Ireland or the UK which, under normal circumstances, can be a logistical nightmare! Planning a wedding in your home country is hard enough, but doing so in a foreign country can be especially challenging.
That's where our professional wedding planners come in. Kerry, Melissa and Kate are all highly experienced wedding planners who together have planned hundreds of weddings here at Sunset Beach Club. They are available for appointments with guests who are staying with us and planning their dream wedding in Spain but, a couple of years ago, we decided we wanted to extend this service…
We know that it can be expensive and time-consuming to have to fly out to Spain to speak to wedding planners and start the process of organising a Spanish Wedding, so we decided to make things easier for future brides and grooms: Our wedding planners would fly over to the UK and Ireland and different times throughout the year to offer private wedding appointments.
These informal meetings are completely free and give brides and grooms, thinking about getting married in Spain, the perfect opportunity to meet with a professional wedding planner. They'll be able to give you useful information about the paperwork needed, wedding reception venues, key suppliers (photographer, DJ, Flowers, etc) and lots more!
Do you live in the UK or Ireland and think you might be interested in meeting one of our wedding planners? We keep an up-to-date calendar of upcoming wedding planner trips on our website (SEE HERE). Kerry, one of our planners is actually off to Ireland next weekend and still has a couple of appointments available for anyone interested.
She'll be at the Cork International Hotel in Cork on Saturday 3rd June and at the Maldron Hotel in Dublin airport on Sunday the 4th June 2017. If you'd like to book an appointment, please contact our wedding coordinator on the following email: weddings@sunsetbeachclub.com.
There are more visits planned to Dublin, Cork, Letterkenny, Sligo and Belfast later in the year. Melissa has only recently come back from a trip to Manchester but, if there is enough demand, she's sure to squeeze in another visit towards the end of the year.
For more information about getting married at Sunset Beach Club, we highly recommend you take a look at the Wedding page on our website HERE.