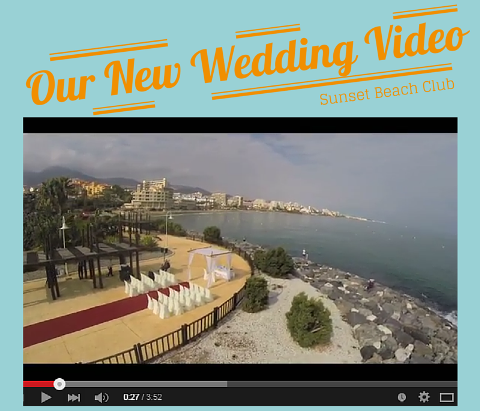 It's been a busy year of Weddings for us here at Sunset Beach Club with 64 couples choosing to celebrate their big day with us.
The majority of these couples flew in from the UK and Ireland taking advantage of our fantastic room rates and great value wedding packages which make getting married in Spain a truly viable option for many couples dreaming of an overseas wedding.
Brides and Grooms to be can relax in the knowledge that all the details of their special day will be taken care of by our wedding coordinators and planners. From help with all the legal paperwork to organising the flowers, cake, music and entertainment, our team handles it all!
We offer a choice of venues for wedding ceremonies and blessings as well as for  banquets (as you'll see in the video).
How would you like to get married on our 'Mirador' overlooking the Mediterranean and then walk down the promenade to our Luna Beach Club for the ultimate beach wedding banquet?
Or if you prefer a more classic wedding, get married in one of the local churches and then celebrate your wedding banquet in our 'Sala Malaga' located on the 7th floor of the hotel with stunning views out to sea. Sounds wonderful doesn't it?
Watch the video below and if you like what you see – and are interested in more information about our wedding services – head over to our Wedding Page and fill in the enquiry form. Our wedding coordinator will contact you and answer all your questions and queries.