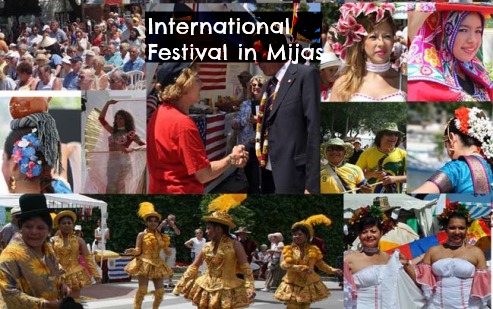 The beautiful white village of Mijas is getting ready for another edition of its International Festival; however, this one is special as it is the 25th anniversary.
Organised by the foreigners department of Mijas Town Hall, this fun 3 day event is a must-see for anyone visiting the Costa del Sol next weekend. More than 20 countries and nationalities take part in this festival which includes music, dancing, delicious foods from all over the world, street performers, giant BBQ's, handcrafted goods, special performaces (see below) and general all round fun!
All the action takes place in the town's 'Plaza Virgen de la Peña'  with the festivities kicling off on Friday the 7th June at 8.00pm. On Saturday the festival will be open to the public from 12.00pm til midnight and on Sunday from 12.00pm to 8.00pm. Plenty of time for you to get up to Mijas and join in the festivities 🙂
There's lots going on over the weekend but we thought we'd highlight some of our favourite events below. (There's a link to the whole programme at the end of this post.)
Friday 7th June
22.30h: Oswaldo Enrique and his American Combo Orchestra – Salsa, Bachata, Merengue and lots more… definitely one for you dance lovers out there!
Saturday 8th June
12.30pm: Opening Flag Ceremony featuring all the countries taking part in the Festival.
7.00pm: Line Dancing (USA) show and workshop
9.00pm: Compadritos Tango Show – Live music and tango
10.00pm: The New Jersey Boys Tribute Band
11.00pm: Multicultural Party featuring Asia, Africa and all the other continents
Sunday 9th June
1.00pm: Street parade by the Classic Car Club of Andalucia
6.00pm: Special 25th Anniversary Show:
Matt & Maxine from the worldwide hit show, 'Riverdance'
RR Radio Gee – Celtic Fusion
Goatskin Bag Band – Live band with fiddler & bag pipes
25th Anniversay Cake – FREE cake for everyone!!!
Click here for the full programme of events at this years International Festival in Mijas
Looking for somewhere to stay? Sunset Beach Club is just a short drive from Mijas and you can make the most of your weekend by mixing the fun of the Mijas Festival with some R&R by the pool or on the beach. You can check availability at www.sunsetbeachclub.com.