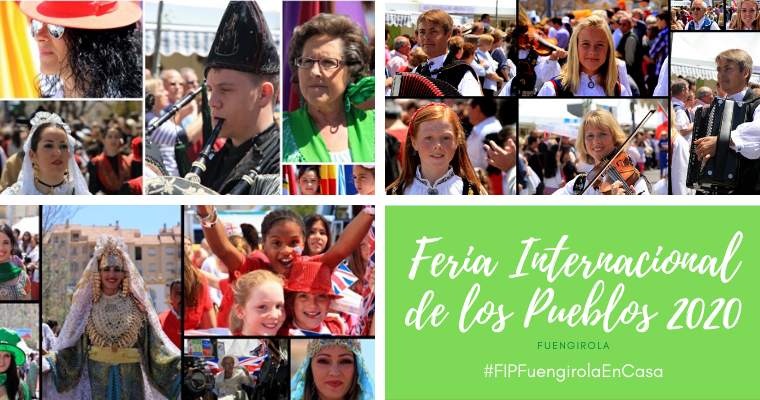 From Wednesday 29th April to Sunday 53rd May 2020, Fuengirola celebrates one of the most important events in its calendar: The "Feria Internacional de los Pueblos" (International People's Fair). However, this year, due to the State of Alarm imposed by the outbreak of Covid-19, the town hall have been forced to move the festivities online for a virtual event.
This unique fair has grown to become a reference at local, regional and even international level. For 5 days, the Fuengirola fairground would be home to a fun and multicultural event for all the family. Unfortunately this year we'll have to make the most of the situation and enjoy the event from the comfort of our homes through the special Facebook group which has been created and where we'll be able to see images and videos as well as listen to music. The event will be promoted online using the hashtag #FIPFuengirolaEnCasa.
In previous editions, this same event managed to attract over 1 million visitors! This year we'll have to see if we can top this figure through online participation!
From next Wednesday 29th April anyone who wishes to take part in the event can do so by joining the Facebook group (see below). Each day the participating countries will share themed multimedia content relating to their gastronomy, arts and crafts or their folklore.
Through the power of technology, the 'International People's Fair' will broadcast Fungirola's multiculturality to homes all over the world and will allow viewers to learn interesting and curious details about the culture of each of the 33 participating countries.
This 'virtual' edition of the fair will have a different theme for each day. Here's a quick look at the Events Programme:
Wednesday 29th April: Presentation of participating countries
Thursday 30th April: Gastronomy
Friday 1st May: Virtual Street Parade and Folklore
Saturday 2nd May: Performances
Sunday 3rd May: Arts and Crafts
To join the Facebook group for this year's International People's Fair please CLICK HERE
Here's a list of all the countries participating this year…
Dominican Republic, Brazil, India, Paraguay, Ireland, Spain, Colombia, Romania, Cuba, Australia, Ukraine, Turkey, Venezuela, South Africa, Sweden, Japan, Estonia, Hawaii, Ecuador, Germany, Morocco, Argentina, USA, Puerto Rico, Mexico, Greece, Finland, Chile, Jamaica, Belgium, Great Britain, Bolivia and Uruguay.
See you online on the 29th April!