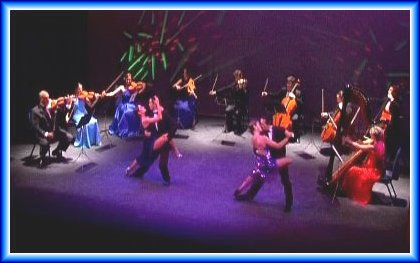 Our Moonlight Theatre is the chosen venue for a special evening of entertainment on Sunday 13th November: A fantastic Argentine Tango and Folk show.
This unique evening of traditional Argentinian tango and folk music is performed by the Arcos de Buenos Aires Company, made up of a string chamber orchestra and a spectacular tango ballet.
The company is conducted by the prestigious violinist and conductor, Walter O Tejada Carranza and will be introducing their new show "La Porteña", a fascinating combination of music and dance with 17 artists performing traditional Argentinian tango and folk music.
Arcos de Buenos Aires have performed in many of the most important international festivals and stages throughout Europe, including: Teatro Comunale di Bologna, Bosforous International Music Festival (Cemal Resit Rey Concert Hall in Istambul, Oldengurg International Festival, and the 2nd International Music Festival "Inessa Galant" in Jurmala, Latvia.
The show starts at 7:00pm on the evening of the 13th November; tickets (a bargain at €10 per person) can be bought at the Sunset Beach Club leisure desk or at the entrance of the Moonlight on the evening of the show.