This week sees the start of the Costa del Sol's largest and most popular fair, the Malaga Fair or Feria de Málaga as it's referred to here!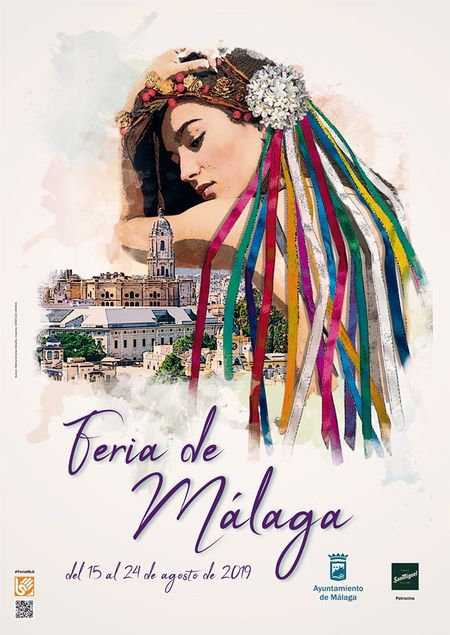 If you haven't been before, we highly recommend you do so! Get ready for 10 days of fun and entertainment as the city welcomes thousands of visitors from all over Spain for, what has become, the most popular summer fair in Andalucía and one of the most popular festivities in Spain.
The official opening of the fair is on Wednesday 14th August and promises to be an entertaining affair with a spectacular pyrotechnical display and a free concert by Spanish musician, Huecco. This all takes place on the Malagueta Beach just next to the port's famous lighthouse from 11:50 pm.
There's so much to see and do at the Málaga Fair that we've included a brief summary of the fair's main attractions and events; just choose your favourites:
The 'Romería': On Thursday 15th August, watch the beautiful horses and carriages make their way from the town hall (on the main Alameda Avenue) to the Victoria Sanctuary in this traditional tribute to Malaga's Patron Saint. The processión starts at 11:30 am.
The 'Feria' in the Centre of Town: This is our favourite part of the Malaga fair where you'll be able to enjoy wine, tapas, music and lots of dancing in the streets of the city's historic centre. Everyday (15th to 24th August) from 12:00 pm to 6:00 pm.
Fiesta de Verdiales: Traditional folklore every day (15th to 24th

August) in Calle Larios at 1:00 pm.
Flamenco: You'll be able to watch some of the best flamenco at the fair's 'Peña Juan Breva' from the 16th to 24th August at 2:00 pm.
La Feria Mágica – 'Cuentos de los Hermanos Grimm': The little ones also have their own fair with an ample selection of activities which include games, workshops, storytelling, theatre, magic and lots more. Several theatre companies will be performing throughout the week-long fair. If you'd like to take part in the fun, head to the Alcazabilla street from 12:00 pm to 3:30 pm (17th to 24th August).
Bullfighting: The Malaga fair is one of the most important events on the bullfighting calendar and attracts some of the most famous matadors including, El Cid, , Sebastián Castella, Roca Rey, David de Miranda, Andrés Romero, Morante de la Puebla, Javier Conde, El Juli, Enrique Ponce, Curro Díaz and Jose Mª Manzanares. From the 14th to 21st August, the Malagueta bullring is the place to go to watch this unique spectacle. (For tickets, please ask at the Sunset Beach Club Leisure Desk located at the entrance to the hotel).
Real de la Feria (Main fairground): The main fairground opens at midday every day and is where most of the entertainment takes place; concerts, flamenco shows, entertainment for youngsters… It's also where you need to head to if you want to experience the thrill of the funfair rides 🙂
Historical Parade: The final event of the fair, this traditional parade recreates the conquering of the city by the Catholic Kings over 500 years ago. It starts at 8:00 pm on Sunday 25th August and is well worth watching!
This year's Malaga Fair also features an impressive list of talented performers taking to the stage at the Municipal Auditorium on the main fairground:
Friday 16th August: Justo Gómez and Andy y Lucas.
Saturday 17th August: Manolo Sarria and ZENET
Sunday 18th August: Rocío Alba, Pascual González and Cantores de Híspalis.
Monday 19th August: Dani Márquez and Rosario Flores.
Wednesday 21st August: Suspiros de España with María José Santiago.
Thursday 22nd August: Morta and Camela.
Friday 23rd August: Indie Night with Dry Martina, Anni B Sweet and Triángulo de Amor Bizarro
Saturday 24th August: David de María and María Pelae
If you're planning on visiting the Malaga Fair and are looking for accommodation near Málaga? Sunset Beach Club is only 20 minutes drive from the centre of Málaga; with fantastic apartment-style accommodation and great facilities, it's the perfect place for an enjoyable family holiday. Feel free to check out our website for more information… www.sunsetbeachclub.com .