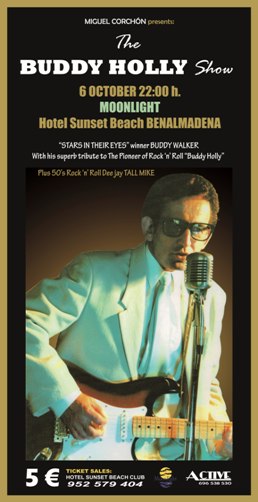 Due to the success of last year's show, the Buddy Holly Tribute show is back again this year. On Saturday the 6th October you'll have the chance to listen to this rock n´roll pioneer's best songs.
Organised by Active Sound Productions, the Buddy Holly Tribute Show features the amazingly talented Buddy Walter, winner of the 'Stars in their Eyes' TV show in the UK; when you hear him sing, you'll understand why he one the competition… he's a clone Buddy Holly, both in looks and voice.
Buddy Holly fans – and Rock n' Roll enthusiasts – will have the chance to listen to all of Charles Hardin Holley's (Buddy Holly) greatest hits and will also be able to boogie the night away with DJ Tall Mike.
Programme
Saturday 6th October 2012 at the Moonlight Theatre, Sunset Beach Club.
10pm – DJ Tall Mike
10.30pm – Buddy Walker and his Buddy Holly Tribute Show
11.30pm – DJ Tall Mike
Entrance price is just €5 per person and tickets can be purchased at the Sunset Beach Club Leisure Desk or at the entrance to the Moonlight Theatre on the night of the concert.
For more information please ask at the Leisure Desk or call Miguel Corchón on 696 538 530.