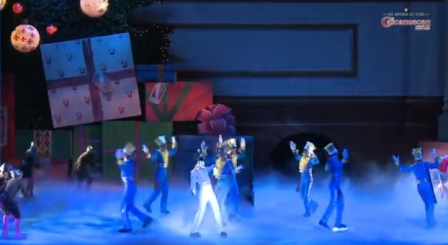 The stage of the famous Cervantes Theatre in Málaga will be transformed into an ice skating rink in December as it welcomes a spectacular and unique show: The Nutcracker on Ice.
The show is produced and performed by the award-winning Imperial Ice Stars under the artistic direction of Tony Mercer, one of the world's leading creators of contemporary theatre on ice. Inspired by A.Dumas' adaptation of E.T.A Hoffman's famous story 'The Nutcracker and the King of Mice' and featuring the enchanting music of Tchaikovsky, the show is sure to be a big hit!
The audience will be treated to impressive acrobatics, pirouettes and other graceful and daring feats performed by 25 professional ice skaters who between them hold more than 250 competition medals. The sophisticated costumes, sumptuous decoration and fascinating special effects all contribute to creating a breathtaking spectacle which you and the family wont want to miss!
Creating an ice rink over the Cervantes Theatre's stage is no mean feat; the process involves 15 km of tubing, 14 tons of ice and more than 35 hours of hard labour – you can read all about the process here.
Apparently the temperature on stage can reach minus15ºC, but don't worry, the organisers assure us that it wont be cold in the theatre 🙂
Show dates and times 
12th and 13th December – 7:00 pm
14th December – 7:00 pm & 10:30 pm
15th December – 6:00 pm & 9:30 pm
16th December – 5:30 pm & 9:00 pm
17th and 18th December – 9:00 pm
Ticket prices range from €15 to €45 and can be purchased online through the Cervantes Theatre website.