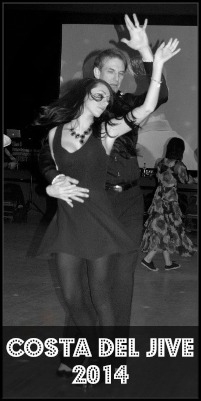 This weekend Sunset Beach Club welcomes over 100 dancers for the first edition of Costa del Jive, a week long event for fans of modern jive. 
The fun starts this Sunday the 30th March with welcome drinks and canapés in the hotel's Sala Malaga followed by a night of dancing in the Moonlight Theatre from 9:00pm to 2:00am!
There's plenty planned for the week with participants able to enjoy daily dance classes (see below), daily activities by the pool (with a little fun thrown in!), a fancy dress fun night or just relax by the pool and soak up the spring sunshine – with a nice glass of sangria, of course!
Events Programme
Dance Classes in the Sala Málaga (7th Floor)
From the 31st March to 5th April (excluding Wednesday 2nd April) anyone interested in learning modern jive is welcome to try one of the dance classes taking place in the Sala Malaga. The times are as follows:
11:00am to 12:00pm: Experienced dancers only
12:00pm to 1:00pm: Experienced dancers only
1:00pm to 2:00pm: Absolute beginners, introduction to modern jive
Price is just €5 per person per hour and anyone interested should ask at the registration desk located on the 6th floor of the hotel.
Modern Jive in the Moonlight Theatre (5th Floor)
Guests can jive every night – from Sunday 30th March to Saturday 5th April (except for Wednesday 2nd April) from 9:00pm to 2:00am (Saturday from 9:30pm). Everyone is welcome and the entrance fee is €10, payable at the door.
For more information about Costa del Jive 2014, please call Sheila on tel. +44 7707 849604 or ask at the information desk located on the 6th floor of Sunset Beach Club.