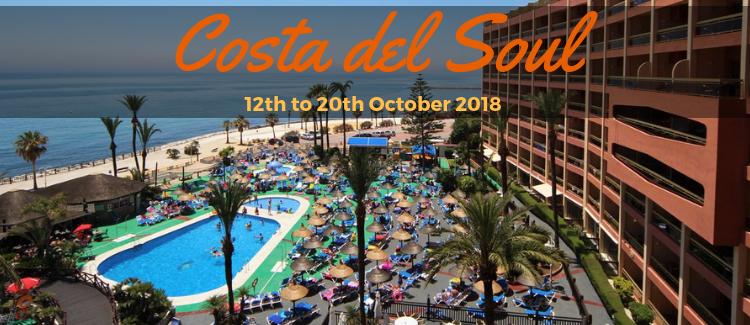 October is 'Soul Time' here at Sunset Beach Club!
For the 10th year running, our friends at Goldsoul – well established UK Soul event promoters – are coming back for a fun week of the best tunes, lots of dancing and, of course, sunshine!!!
This year's 'Costa del Soul' event promises to be the best yet. After the success of the extended 9 day event (It's usually seven nights) this year Goldsoul have decided to repeat this winning formula and Costa del Soul will run from Friday 12th October to Saturday 20th October featuring some of the top DJ's from the UK playing the greatest Soul Music Tunes throughout the day.
Soul music lovers can enjoy their daily dose of Classic Soul tunes by the hotel's Tikki Poolside Bar whilst enjoying a cool jug of Sangria and working on their tans!
After a hard day by the pool, the fun continues in the Panorama Bar with some laid-back soul from 6 to 9 pm. This includes the ever-popular happy hour and the chance to catch up and watch the latest live Premiership or Champions League football matches.
The evening's entertainment then moves over to the Moonlight Club, the hotel's dance venue, which will be open every night from 9.30pm til late!!!! Don't forget that the first hour (from 9:30pm to 10:30pm) is happy hour!. Some of the UK's top DJ's will be at this year's event including Kev Roberts, Ginger Taylor, Tony T Bone, Ray Copley, Andy B, Andy Jackson, Snowy, Yocki, Sam Evans, Hitsville Chalky, Ozz, Phil Kingswood and Mike Atherton and special guest Samotta Acklin who'll be performing live to celebrate the event's 10th anniversary!
This is the full events programme for 'Costa del Soul 2018' with times and locations where the DJ's will be playing tunes each day …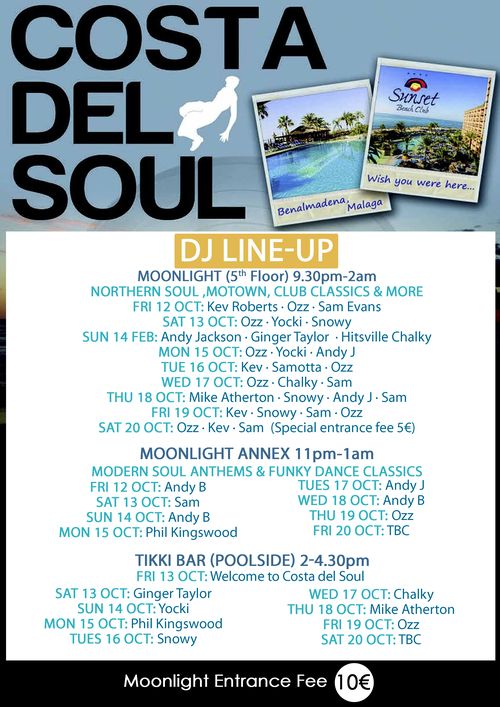 The evening events are open to the public (Subject to availability on the night) and all soul music lovers are welcome! The price per person/night is just €10 and can be paid at the entrance each evening.
For more information about Costa del Soul, please head over to www.goldsoul.co.uk.
Here's a short video of 2015's event to give you an idea of what to expect…
If you'd like more information about the venue or are interested in a Costa del Sol Holiday break, please visit the Sunset Beach Club website: www.sunsetbeachclub.com
Note: This event is for over 18's only