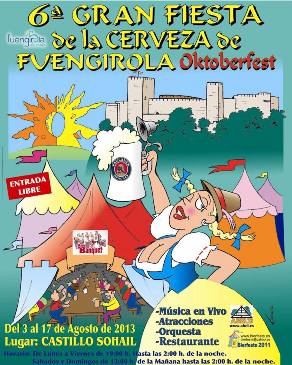 The 6th edition of Fuengirola's Beer Festival starts today (3rd August) in the town's emblematic Sohail Castle. For two weeks – until the 17th August – all who visit the Festival will enjoy the fun atmosphere of the Costa del Sol's very own Oktoberfest.
Special marquees and tables have been set up where visitors can try typical German dishes, sample a fantastic selection of Bavarian beers and listen to live music. 
The Fuengirola Beer Festival is open to the public from 7.00pm to 02.00am on week days and from 12.00pm to 02.00am at weekends.
Definitely makes for a fun night out. Are you planning to visit the Costa del Sol's Oktoberfest?