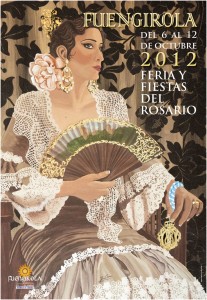 The Fuengirola Fair is just around the corner. This year, the fun begins on Saturday the 6th October and ends on Friday the 12th October – Those are the official dates but as you'll see below, there are events planned on the 13th and 14th October too!
Know as the 'Feria del Rosario', this is one of the last big fairs of the season and is famous for its amazing horse shows and displays.
Below we've included a list of – what we believe – are some of the highlights of the Fuengirola Fair and events you may just want to go along and see. 
Saturday 6th October
6pm: Bullfighting with 3 top matadors: Manuel Díaz "El Cordobés", Juan José Padilla, David Fandila "El Fandi"
10:30pm: Official opening of the fair and the artistic lighting display.
11pm: Fuengirola Municipal Choir and Dance Group perform in the Palacio de la Paz– Free Entrance
Sunday 7th October
8am: 'Suelta de vaquillas' in the bullring (lots of baby bulls running around freely with locals trying to dodge them… fun to watch but we don't recommend you try it!) – Entrance fee €3.
10:30am: 'Misa Flamenca' (Flamenco Mass) followed by the procession of 'Nuestra Sra. Del Rosario' the fair's patron saint through the streets of Fuengirola.
Monday 8th October
6pm: Comic Bullfighting Show 'Popeye Bullfighter and his 8 Dwarfs' in the Fuengirola Bullring – Entrance is €10.
Tuesday 9th October
5pm: Equestrian Procession in the 'Plaza Antonio José Galán' in Fuengirola's main fair ground.
Wednesday 10th October
Children's Day with all funfair rides at 50% discount
6pm: Children's party with musical show, magic and various fun workshops (Face painting, tattoos, balloons)
Friday 12th October
6pm: Amazing Bullfight on Horseback in the Fuengirola Bullring – Tickets from €30
Saturday 13th October
12pm: Horse dressage exhibition in the Bullring – Entrance fee just €3
6pm: Horse and Carriage exhibition in the Bullring – Entrance fee just €3
Are you planning on going to the Fuengirola Fair this year? What do you like most about the fair? Let us know in the comments below.