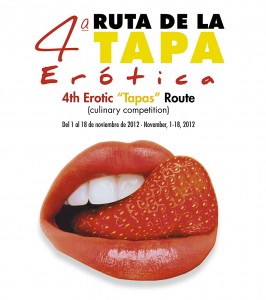 From the 1st to the 18th of November 2012, Fuengirola will celebrate the 4th edition of its – now famous – and extremely popular 'Erotic'  Tapas Route, an original and fun initiative which increases in popularity each year attracting tapas lovers from all over Spain.
This year the town hall expects the participation of 80 of the city's bars and restaurants, all of which will compete for the coveted prize of best 'Erotic' Tapa. Each of these establishments will have to prepare a sensual and fun tapa which clients will be able to try during the 18 days of the event.
Last year's tapas route saw visitors consume the impressive figure of 260.000 tapas; this year organisers hope to improve on this number. A few of us here in Sunset Beach Club's Commercial Department will do our best to contribute to this figure as we're planning an evening out to make our way around the Tapas Route and report on this fun event from the 'front lines' 🙂
Locals and visitors to Fuengirola will be able to try a total of 80 different 'spicy' and creative tapas each one costing just €2 including a drink.
As is now tradition, the town hall have also organised a competition in which participants have to collect stamps in special 'Tapas Passports'. The objective is to collect 10 stamps, each from a different establishment, and vote on a favourite tapa. You can collect these passports – which this year are available in English – at the Tourist Office or in participating establishments and once completed must be handed back in at the Tourist Office.
On the 22nd November they will hold a raffle to choose the winners of fantastic prizes which will include a cruise for two people, a trip to Logroño (Lovely city in the north ofSpain), various one night hotel stays and lots more…
Make sure you don't miss this unique and fun event… we'll be there enjoying some of these 'spicy' tapas and – of course – taking lots of photos to share with you here on the Sunset Beach Club Blog!