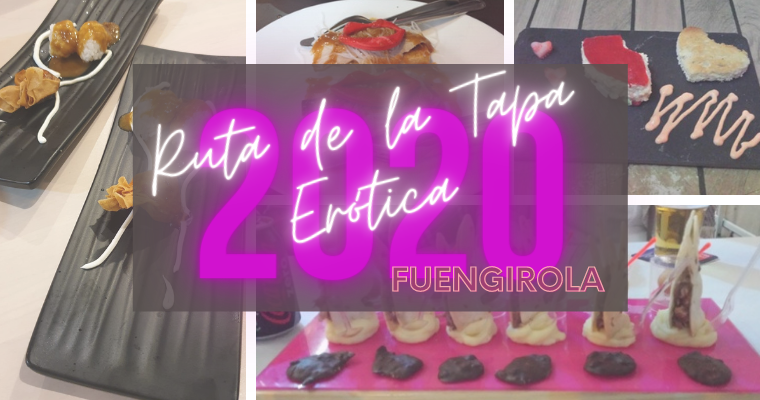 On the 30th October 2020, our neighbouring town of Fuengirola kicked off the 12th edition of the "Ruta de la Tapa Erótica" (Erotic Tapas Route), a simple and original idea which, since the first edition, has become a reference all over Spain. Although current circumstances are difficult, the Fuengirola Town Hall has decided to go ahead with the event and support the local restaurant industry which is going through a very tough time.
Up until the 15th November, visitors to Fuengirola will be able to enjoy this traditional Spanish snack, with a slightly "spicy" touch. This year, the route sees over 71 different establishments take part, each preparing a sensual and fun tapa, with creativity and flair being the main ingredients. Some of the participating establishments will also be offering special 'gluten-free', sweet or vegetarian tapas.
Anyone who visits one of the participating restaurants or bars will be able to sample one of these "erotic" tapas and a cool beer (or glass of wine) for a – very reasonable – €2.50. If you choose one of the sweet dessert tapas available in some establishments, you can choose to accompany it with a coffee, tea or sweet wine.
This year – to help prevent the spread of the Covid-19 virus – the traditional "Tapaporte" (special tapas passport) which gives you the chance to win great prizes, will be replaced by a virtual version. Participants must scan the QR codes found on the promotional posters for the event. Once the code has been scanned a registration form will appear which must be filled in in order to access the 'Digital Tapaporte'. Once this has been filled in an email will be sent to confirm registration and thereby allowing the user to take participate.
As participants try the different tapas in participating establishments their waiter will show them a QR code for that specific tapa which will serve as a virtual stamp. Scanning the code will allow the user to score the tapa on a scale of 1 to 5 stars. The aim of the competition is to complete the passport with the stamps of 10 different establishments and be eligible to take part in the prize draw.
When you take part you'll also receive a special code which can be redeemed for a surprise gift at the Fuengirola Tourist Office from Monday to Friday from 9:30am to 6:00pm, Saturday, Sunday and Public Holidays from 10:00am to 2:00pm.
As we mentioned above, if you complete your virtual passport with 10 virtual stamps you will be entered into the fantastic prize draw; these are some of the great prizes you can win: Apple Watch, Apple iPhone XR, Televisor Hisense 60″, Apple iPad, Samsung A71 Mobile Phone, Reloj Samsung Galaxy Watch, Tablet Samsung, Robot vacuum cleaner Cecotec 'Conga', Pioneer micro system or a Philips Coffee Machine.
Please don't forget to maintain a safe distance at all times, use alcohol gel to clean your hands and make use of your safety mask when you are not eating or drinking.
Are you going to visit the Erotic Tapas Route in Fuengirola? Let us know in the comments below.