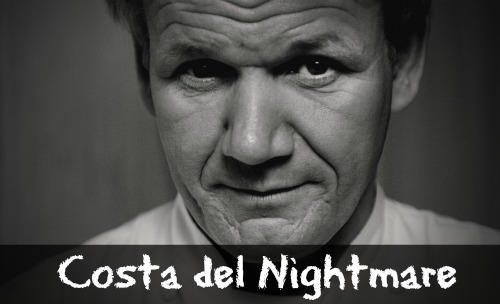 Fans of fiery TV Chef, Gordon Ramsay, will be delighted to know that he will be returning to the Costa del Sol for a new television series entitled Costa del Nightmares! 
This is Ramsay's second visit to the Costa del Sol. In 2007 he filmed an episode at 'La Parra de Burriana' in Nerja and although he helped turn the business around, the restaurant has since closed down. 
Apparently this new season of Nightmares will focus on four ex-pats living on the Costa del Sol, struggling to make a success of their eateries. Love him or hate him, Chef Ramsay's straight talking, no-nonsense approach and legendary f-word rants are sure to be a hit. We just have to wait and see which establishments are chosen to benefit from one of these – potentially – life changing visits from this three Michelin star chef.
Filming for the new show will take place in May and June and many of the Coast's popular tourist destinations are sure to be featured in the new episodes, hopefully Benalmádena will be one of them! 🙂
The show's producer's, Optomen, are currently looking for restaurants, hotels and B&B's to take part in the new series. Anyone interested can contact them directly by emailing restaurants@optomen.com or calling 00 44 203 227 5867.
So what do think, will you be watching Costa del Nightmares? Let us know in the comments below.