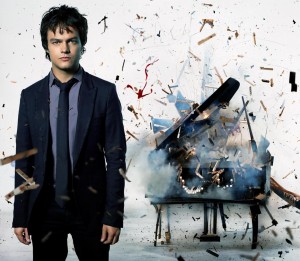 We're in for a real treat this Thursday evening (4th August) as contemporary Jazz artist, Jamie Cullum, takes to the stage in the amazing setting of Sohail Castle in Fuengirola.
Known for his passionate and energetic live performances, the 31 year old visits the Costa del Sol for what will be his only show in Andalucia (even more of a reason to go!). The foundations of Sohail Castle will be literally shacking as he performs songs from his own albums as well as hits from other famous artists.
Although his music is rooted in Jazz, he delves into a vibrant mix of pop, rock 'n roll and jazz. He'll be pounding away at his piano, but if we are lucky, we'll also be able to sample his talents on the guitar and drums too! An interesting fact: Jamie never works to a set list in his live performances, it's all improvised! Should make for a very entertaining evening…
The doors of Sohail Castle will open to the public at 8:30pm and the show starts at 10pm. If you're looking for tickets, you can buy them online at www.ticketmaster.es or at any El Corte Inglés department store. Prices start at €35 if you buy before the event and go up to €45 on the night.
Note: If you're heading to the Costa del Solspecially to see the concert and you are looking for somewhere to stay, you can check our availability on www.sunsetbeachclub.com