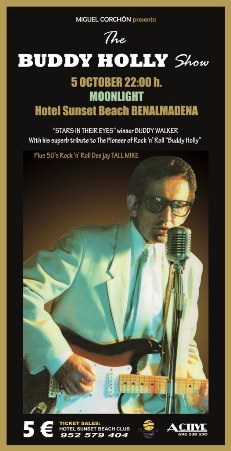 Once again, Active Sound Productions, a local production company specialising in the organisation of musical events on the Costa del Sol have organised an evening of the best live music in Sunset Beach Club's Moonlight Theatre.
For the 3rd year in a row we are delighted to welcome back Buddy Walker with his fabulous tribute to the legendary Buddy Holly. A talented singer and musician, Buddy Walker is a previous winner of 'Stars in Their Eyes' where he performed his tribute to the rock 'n roll legend.Walker has taken his tribute show all over the world and has even played on the stage of the legendary Surf Ballroom in Clearlake, Iowa, where Buddy Holly first played live.
The Buddy Holly Show which will take place on the 5th October 2013 is a tribute to one of the greatest musicians of the 20th century and his exceptional songs. His music has inspired some of the greatest artists of our time: The Beatles, The Beach Boys, The Rolling Stones, The Hollies and Bob Dylan to name but a few.
A couple of interesting facts about this amazing singer and composer:
He was one of the first artists to be included in the Rock and Roll Hall of Fame in 1986 following the footsteps of Chuck Berry, James Brown, Ray Charles, Sam Cooke, Fats Domino and the Everly Brothers.
In 2004 Rolling Stone Magazine placed Buddy Holly at number 13 in their list of the 100 Greatest Artists of All Time.
During this evening of great rock and roll music, spectators will also be able to enjoy the music of DJ Tall Mike who will play two sets, one before the Buddy Holly Show and one after. It's going to be a fun night so make sure you bring your dancing shoes!
Programme
Saturday 5th October at 10.00pm in the Moonlight Theatre, Sunse tBeach Club.
10.00pm – DJ Tall Mike
10.30pm – BuddyWalker and his Tribute to Buddy Holly Show
11.30pm – DJ Tall Mike
Entrance tickets are just €5 and can be purchased at the Sunset Beach Club leisure desk located on the 6th floor of the hotel or at the entrance to the Moonlight Theatre on the night (as from 9.00pm).