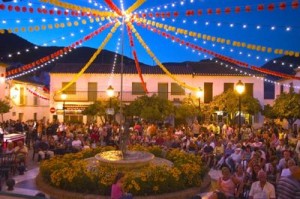 It's definitely a busy week as far as fairs and local festivities are concerned! In a previous post we mentioned the Málaga Fair which starts this weekend and today we're letting you know about the fair in Benalmadena Village which kicks off tomorrow (11th August).
Nowhere near as busy – or chaotic – as the Málaga fair, this local fair is more of a low key affair and a great option for those looking to experience a traditional local fair for the first time.
As is typical in most local festivities, the fair is split into two: A day time version where you can indulge in some great tapas and wines as well as dance to sounds of traditional flamenco music! At night its time for the fun fair where children and adults alike will have a blast on all the rides available!
There will be live music every evening at the main fair ground for those who fancy it and on Monday the 15th August, the town hall has organised its first fancy dress rally where participants have to decorate their cars as extravagantly and originally as possible; the best "design" gets a prize! Should be fun to see how artistic the Benalmádena locals can get 😉
Throughout the 5 days, there will be a number if competitions and tournaments which will allow visitors to the "feria" the chance to win some great prizes, including restaurant meals, toys and other fun gifts.
If you're staying at Sunset Beach Club, make sure you visit Benalmádena village fair for a taste of the real Spain…and a whole lot of fun too!
Just a friendly reminder that if you are looking for somewhere to stay during "Feria Week", you can check availability for our hotel at www.sunsetbeachclub.com