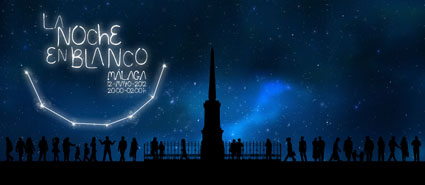 Malaga is getting ready to celebrate the 5th edition of its 'White Night' (La Noche en Blanco) cultural event. Last year the Costa del Sol's capital was flooded with just over 200,000 visitors who flocked to experience some of the activities and entertainment on offer during this unique evening.
Unfortunately, this year the event has been hit by the economic crisis and will suffer an important 50% reduction in its budget. Although the overall investment in the event wont reach €60,000, the mayor of Malaga, Francisco dela Torre, has publicly stated that the program for this years event will be more ambitious and will offer more spaces and activities.
Just a quick reminder that during the 'White Night' all activities in the official program are free! If you're interested, you'll have to head to Malaga on the evening of the 12th May between 8:00pm and 2:00am.
There are approximately 160 activities and shows programmed throughout the city. It's impossible to include them all in this post; however, we will highlight some of the activities and shows you won't want to miss:
Art – All museums in Málaga will be open from 8:00pm to 2:00am and you'll be able to see all this amazing art for free! This is the perfect chance to see the Picasso Museum and the Carmen Thyssen Museum 🙂
Street Art – Visit the 'Poor Man's Piano', a large piano which has been set up in the 'Tribuna de los Pobres' and where you'll be able to show off your musical talents as you use your feet to play different tunes. We also recommend you take a walk down Malaga's famous Calle Larios where you'll come across strange creatures who will be dishing out gestures, advice and hugs…
Music – From the delicate sounds of a single piano located in the centre of 'Plaza del Obispo' to the jazz bands playing in the streets and a Flamenco show in the 'Café Central', there's something for all.
Visual Art – Make your way to 'Calle Alcazabilla' and press the smile button…then wait to see what happens on the large screen! After this experience, visit the Interactive Museum of Music where 'Urban Sketchers' – a group of artists – will literally 'draw the music' in the main exhibition hall.
Extraordinary Visits – Make the most of this fantastic opportunity to visit the Alcazaba which will be offering the 'Visita de los Sentidos' (Visit of the Senses); a chance to see this impressive building lit up with artificial lighting and witness some of the most spectacular panoramic views of the city.
If you'd like to see the full programme for the evening, you can download a copy here (please note that this is only available in Spanish).
If you are visiting the Costa del Sol this week and would like to experience a bit of culture, you really must try and get down to Málaga city centre for this unique event; 6 hours of activivities and shows and all for the incredible price of …FREE!
If you're staying at Sunset Beach Club, be sure to ask at our Leisure Desk for more information.