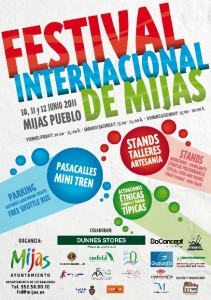 It looks like Mijas is the place to be at the moment. Last week the pretty white village hosted their popular Blues Festival and this weekend, residents and visitors alike can enjoy the 23rd edition of the Mijas International Festival.
This colourful event is ideal for all the family, with lots of activities for kids and plenty of food and drink for the adults!
There will be twenty different nationalities taking part in this years festival with the celebrations taking place in three separate zones: The blue zone in the La Muralla Gardens; the red zone in Plaza Virgen de la Peña (in front of the Townhall) and the green zone in Plaza de la Constitución.
Each of these stages will be provide live entertainment in the form of musical performances and traditional dances; we're talking Mexican Mariachis, Celtic music, Indian dances and, of course, Flamenco music and dance.
As well as the three stages, visitors will be able to wonder around the 19 different stands, each representing a different culture or country; typical foods, drinks and traditional handmade goods will all be available for people to purchase. I hear they are also going to have 2 giant Argentinian and Uruguayan BBQ's; those guys don't mess around when it comes to BBQ's… a definite must!
If you like street parades, make sure you don't miss some of the fantastic ethnical street parades planned over the weekend: Dragons from Korea, Colombian Carnival as well as parades from Bolivia, Senegal and a whole host of other countries!
The fun starts at 9pm on Friday the 10th June and continues until Sunday evening (12th June). Please note that in Saturday and Sunday the Festival kicks off at 1:30pm.
Entrance to the Festival is Free and the Town Hall have arranged special parking areas with free shuttles; they are obviously expecting large crowds!
Definitely a good option if you're looking to do something different this weekend!
If you do happen to go, please let us know what you thought of the Festival.