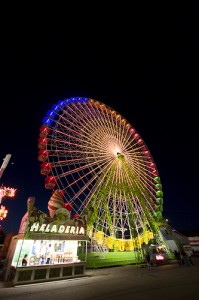 If you are lucky enough to be on holiday on the Costa del Sol this week, then you are in for a real treat! This week we have two "Ferias" (local festivities): one in Benalmadena Pueblo and the other in Málaga.
Have you ever had the chance to experience the magic of a local "feria"? If not, you can't miss out this time! It's the perfect opportunity to experience some traditional Spanish culture as well as have a blast of a time!
For a "full on" first time Feria experience, I recommend you join the festivities in Málaga; it's regarded as one of the best in Andalucia – second only to the famous Seville Fair in April – and you are guaranteed a great day out. Don't be fooled by the photo; you will get a chance to jump on all the rides at the Fun fair which takes place in the evening but the real Feria atmosphere is lived during the daytime in the centre of the city. Bars, music, flamenco dancers, beautiful "señoritas" and "señoritos" dressed in traditional costumes, great food and drink……just a taste of what you can expect!
If you are feeling really adventurous – once you've made your way through the streets of the old town and experienced the true essence of the Feria – you can head for Málaga's famous Bullring and enjoy a true taste of the Spanish fiesta by watching a Bull fight; it wont be any old bull fight, as the Malaga Fair attracts some of the best fighters in Spain!
And if after all of that, you still have the strength for more, you can head over to the fair ground for the fun fair with all its rides and attractions; this is open from early evening until late…..very late!
The Malaga Fair can be quite exhausting, especially if it's your first time. For something a little more low key, you might want to try the Feria in Benalmadena; you'll be able to soak up all the atmosphere of the local festivities; eat great food, listen to great music and if you're up to it, a little flamenco dancing!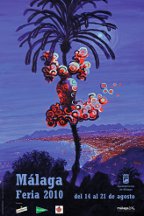 So when does all this take place?
The Málaga Fair Kicks off this Friday the 13th August at midnight with a firework display on the Malagueta beach; not to be missed. You then have 9 days to visit the fair which ends on the 22nd August.
The Benalmadena Fair starts this Wednesday the 11th August and goes on until Sunday the 15th August.
Enjoy the Fiestas and let us know how you get on. We'd love to see some photos of your experiences. (You can share them with us on our Facebook Page ) 😉
Photo Credit : clspeace