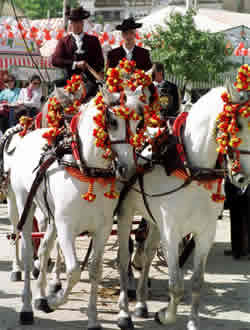 Our neighbours in Fuengirola are celebrating their local "Feria" this week (starts on the 6th October and ends on the 12th). Referred to as the "Feria del Rosario" – in honour of the town's patron saint – it is famous for its' horse exhibitions and processions.
We thought it would be interesting (and fun!) to give you a checklist of things you should do during this year's Fuengirola Fair… so here goes:
1)      Go and watch the official "switching on" of the Fair Lights. Takes place on the 6th October at 10:30pm at the Palacio dela Paz.
2)      Watch the "Misa Flamenca" (Flamenco Mass) in honour of the Patron Saint, La Virgendel Rosario Coronada. There will also be a procession which leaves from the Plaza de la Constituciónin the town centre. 7th October at 10:30am.
3)      Horse Show and Exhibition in the Fuengirola Bull Ring. 12:00pm on the 8th October – Entrance is Free
4)      Horse and Carriage Procession in the Antonio José Galán square (in the main Fair ground) – Starts at 5:00pm on the 8th October.
5)      Experience a true traditional bullfight at 5:30pm on the 9th October – Fuengirola Bullring. Top class fighters Manuel Días "El Cordobés", Daniel Luque and Jiménez Fortes.
6)      Get ready for some fun with the kids by taking them to the Fun Fair on the 10th October. Why this day? Because all children's rides are discounted by 50%! There's also a Children's Party with theatre, face painting and balloons at 6:00pm.
7)      One for all the family… the Comic Bullfighting Show "El Bombero Torero" (The Firefighting Bullfighter). Takes place in the Fuengirola Bullring with tickets priced at €15 for adults and €10 for kids.
8)      Visit one of the many "Casetas" in the fairground and sample a glass of sherry or wine and some delicious "Jamón". If you feel up to it you can also have a go at Flamenco dancing!
9)      If you have a late night out, it is tradition to enjoy some "Churros" and Hot Chocolate first thing in the morning in one of the cafeterias that offer this traditional Spanish breakfast. If you don't know what they are, make sure you give them a try, they're great for the hangover!
Hope you like the suggestions and be sure to let us know how you enjoyed the Fuengirola Fair in the comments below.