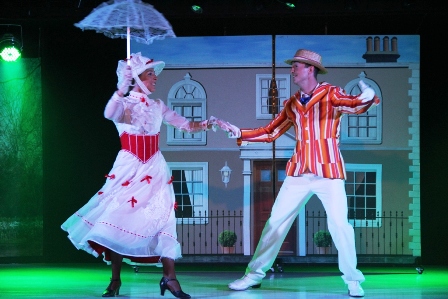 Those of you who are regular visitors to Sunset Beach Club will be familiar with the great shows we offer during the busy summer months.
These shows tend to be tributes to well known musicals and are all choreographed and performed by our talented in house animation team. Previous shows include The Lion King, Grease, We Will Rock you, Chicago, Moulin Rouge to name but a few.
This year, the team have worked extremely hard to put together a fabulous show to be enjoyed by the whole family… Mary Poppins! Feedback so far from guests who have watched this new show has been amazing. The costumes, the lighting, the choreography, everything has been meticulously prepared to ensure a fantastic night of entertainment for guests to visit our Moonlight Theatre every Thursday evening during the summer.
Entrance is free and everyone is welcome (even those who aren't staying at Sunset Beach Club) although we do recommend you get there early to grab a good seat as it's extremely popular; The show starts at 10.30pm.
Just as a teaser – and to give you a good idea of what to expect – we've attached a short video clip with some of the highlights of the show.
What do you think? Are you planning to come and watch our Mary Poppins Show?
For more information about our hotel and the great entertainment programme we have on offer, please visit our website => CLICK HERE