Ricky Lavazza, one of Sunset Beach Club's most popular entertainers, is putting on a special and fun-packed long weekend of Rock 'n roll on the 26th, 27th, 28th & 29th January with great music and activities throughout the weekend.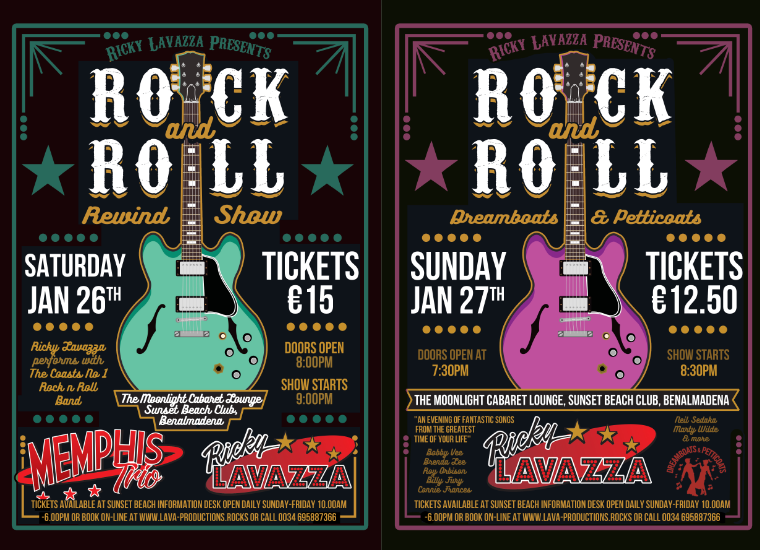 After last year's successful event, this year's Rewind will go on for 4 days and will feature all the greatest hits from the 50's and 60's.
Guests purchasing tickets for the whole event (including accommodation) are in for 4 days of fun with a packed activities program. It all kicks off on Saturday 26th January with a welcome drink followed by Professional Jive Sessions in the Malaga Suite. At 9:00pm you can enjoy the first of 4 amazing shows in the Moonlight Bar. 'The Memphis Trio' the Costa del Sol's nº1 Rock n' Roll band will be Ricky's guests for this rockin' evening!
On Sunday 27th January, you'll be able to enjoy Jive lessons at 11.00am followed by a Hawaiian BBQ (loud and colourful shirts expected) in the Oasis Restaurant and a 1950's Trivia quiz for dessert.
After a little rest, you'll be off the Moonlight Bar again for the second of Ricky's shows, 'Dreamboats & Petticoats' where we'll be celebrating the music of many of the rock 'n roll greats, including Bobby Vee, Roy Orbison, Billy Fury, Neil Sedaka, Brenda Lee and many more!
On Monday 28th January we switch to a 60's theme. At 3:00pm you can take part in Professional Watusi Lessons in the Malaga Suite and at 9:00pm it's time to rock to the sound of one of Spain's best Beatles Tribute Bands, The Silver Beats!
Tuesday 29th January is the final day of the event with Twisting by the pool at the Paella Party with live music at 2:00pm. At 8:30pm you can head down to the Moonlight Bar for the Sounds of the Sixties Show, an evening of quintessential 60's songs packed with nostalgia. You'll enjoy hits from The Hollies, Ricky Valence, The Kinks, Sandie Shaw and many more!
If you fancy taking part in this crazy Rock 'n Roll weekend, the prices for the four-day event is just €139. This includes accommodation at Sunset Beach Club (with buffet breakfast included) and access to the daytime activities and the 4 evening shows. To book, please call (00 34) 695 887366!
Not interested in staying the night but would like to see the shows? No problem. You can buy tickets for the individual shows at the Leisure Desk at Sunset Beach Club (located at the entrance to the hotel).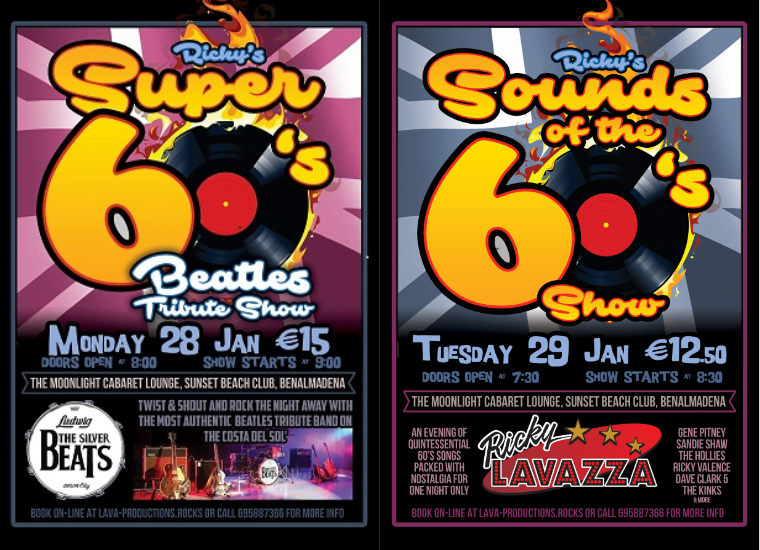 Saturday 26th January: The Memphis Trio Show. Doors open at 8:00pm and show starts at 9:00pm. Tickets €15.
Sunday 27th January: The Rock 'n Roll Legends Show. Doors open at 7:30pm and show starts at 8:30pm. Tickets €12.50.
Monday 28th January: The Silver Beats – Beatles Tribute Band. Doors open at 8:00pm and show starts at 9:00pm. Tickets €15.
Tuesday 29th January: Sounds of the 60's Show. Doors open at 7:30pm and show starts at 8:30pm. Tickets €12.50.
Look forward to rockin' with lots of you at Ricky's event!