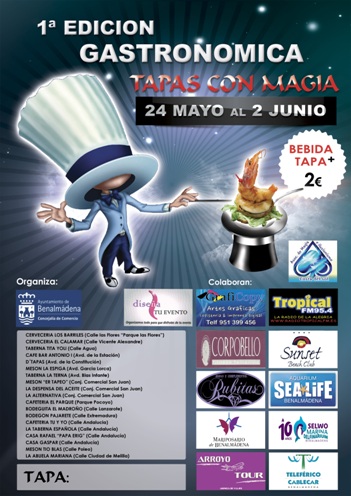 Next Friday the 24th May sees the start of a new gastronomic route in Arroyo dela Miel: 'Tapas with Magic'.
For those of you unfamiliar with these gastronomic tapas routes, they are initiatives organised by the local town hall to promote local businesses and encourage local residents and visitors to visit the town centre to enjoy some of the great restaurants and bars.
This first edition of this new tapas route will be held from the 24th May to the 2nd June and, as the name states, has the novelty of including magic shows as part of the experience (Only at weekends).
Approximately twenty bars and restaurants will take part in the event, each offering their very own and unique tapas dish to all visitors; for the – very reasonable – price of €2, you'll be able to enjoy a delicious tapa and a refreshment (soft drink, beer or glass of wine). 
It is common for this type of event to organise a raffle with fantastic prizes which all visitors can participate in. The process is simple: there will be 5000 'passports' available to everyone who takes part in the route. With these passports you have to get a minimum of 7 stamps, each in a different establishment, in order to be eligible to enter the raffle.
There are lots of great prizes to be won with many local businesses donating all sorts of goodies. One of the prizes is a one night stay with buffet breakfast at Sunset Beach Club :-)
The draw for the raffle will be held at the Casa de la Cultura at 12:00 pm on the 7th June. All passports can be picked up – and later deposited – at any of the participating establishments.
What do think of this new initiative? Are you planning on heading up to Arroyo to taste some delicious tapas? You could even make the most of the trip and stay with us here at Sunset Beach Club 😉 We've got comfortable apartments from just €65 per night!