If you are planning on visiting Benalmadena this week (from the 23rd June) there are a couple of events you won't want to miss: The Night of San Juan and the San Juan Fair in Arroyo de la Miel.
The Night of San Juan is the perfect way to celebrate the arrival of the summer. All over Spain, people flock to the beaches to enjoy a magical night with bonfires, barbeques, fireworks and lots of food and drink!
Benalmadena is no exception with bonfires being lit all along its beaches. This year, there's the added attraction of a full piro-musical show (fireworks, music and lasers) which takes place just down the road from the hotel, at the Bil-Bil Castle.
For a great view of the show, we recommend you head down to the promenade in front of the hotel and watch from there. Although a little late to stay up for (1:00am) it'll be worth it! Why not head down to Salitos Bar on the promenade for a quick nightcap before the firework show begins?
The San Juan Fair 2019 in Arroyo de la Miel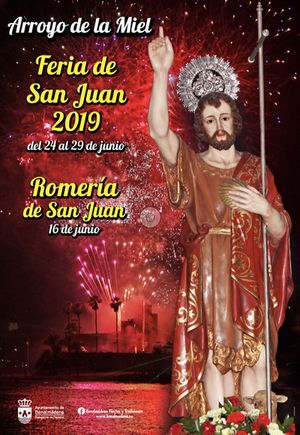 If you've never been to a traditional Spanish 'Feria', we strongly recommend you take a stroll up to the centre of Arroyo and experience a true taste of Spanish culture. We recommend the following activities and events:
The day fair which takes places every day in the Pueblosol Square in Arroyo de la Miel. Flamenco (singing and dancing), delicious food and an endless supply of wines await you!
On Monday 24th June at 7:00 pm there's the traditional procession where the Patron Saint of Arroyo de la Miel is paraded through the streets accompanied by the Benalmadena Municipal Music Band.
The 25th June is children's day at the fair with all attractions and rides priced at just €1.50 (50% off normal price). If you've got kids, this is definitely the day you want to visit as the rides on normal 'feria' days are €3.50 or more!
On the 26th June from 19:00h to 21:00h and as a gesture in favour of the integration of people with Autism Spectrum Disorder, the fair attractions and rides will be music-free.
So, will you be joining in the fun next week? Let us know in the comments below.
And if you're looking for accommodation in Benalmadena, make sure you check the Sunset Beach Club website. Fabulous 4-star apartment-style accommodation and excellent facilities for all the family.