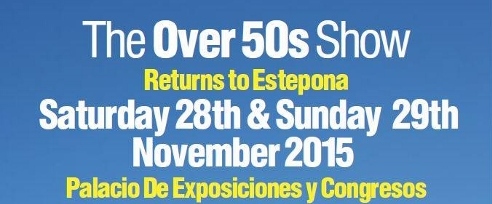 The popular Over 50's Show is returning to Estepona this November. Sunset Beach Club participates in Over 50's shows run by the same organisers in Dublin and Galway and we certainly recommend it to anyone looking to spend a fun and educational day out. And you don't have to be 'over 50' to attend as activities and exhibitors are interesting to people of all ages. 
This admission-free lifestyle event aims to provide the Costa del Sol's senior community with an entertaining, educational and informative experience. There's lots happening during the event with visitors able to enjoy the following activities: 
cooking demonstrations
Computer and internet tuition
Dancing demonstrations and lessons
Wine tasting
Pottery demonstrations, flower arranging, leatherwork and embroidery
Golf lessons from PGA professionals
Indoor bowls tuition
Consumer and legal advice
Finance advice
Pets advice
Health checks
And lots more…
For those looking for information on their physical and financial health as well as enjoy many of their hobbies and interests, the Over 50's Show offers a true 'one-stop shop'. Blood pressure and blood glucose tests, spine checks, bone density screening and even opportunities to join in yoga and aerobics lessons, take good care of the 'health' part of your visit. 🙂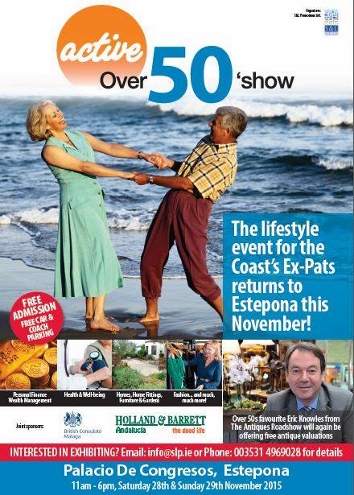 Antique buffs will be happy to know that The Antiques Roadshow's Eric Knowles will be at the show offering visitors free valuations of their small antiques and collectibles, as well as larger items from photographs. This is one of the most popular and successful features of the show and has produced some great finds; a few years ago one visitor brought in a very valuable 19th century painting!
Coin collector or Numismatist, as it is now more correctly known, will be at the Active Over 50's Show sharing his wealth of experience of collectables, in a particular, coins and bank notes.
This year the Andalusian International Artists art group will be back to display their works at the show. Formed seven years ago by professional and dedicated visual artists from around Europe (and who all live and work in Andalucia), the group comprises artists such as Diana Worthy, Richard Wood, Philip Magee, Roger Rodriguez, Enrique Linaza, Mette Madsen, Eleazar Galea, Dolores Cummiskey, Gordon Haslett, Roger Cummiskey and Juan Cruz Plaza.
The show's organisers are also delighted to report that the multi-national health product company, Holland and Barrett, have come on board as a sponsor; be sure to look out for samples and freebies of their fantastic products.
The British Consulate from Malaga will be on hand to offer visitors guidance and advice on a myriad of areas relating to residency, legal issues and entitlements.
The Over 50's Show in Estepona takes place on Saturday 28th and Sunday 29th November at the Palacio de Congresos y Exposiciones. Opening times are from 11am to 6pm on both days.